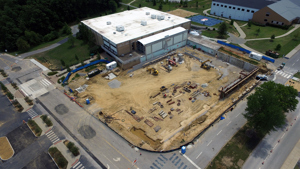 It was another busy summer full of construction and renovations on campus. While numerous improvements were completed, there are still many proceeding and others getting underway.
Physical Activities Center
Steel beams are currently being installed for the new PAC arena and utility tunnels were installed under University Boulevard over the summer. Drivers on University Boulevard should continue to be cautious as lanes will be opened and closed as work continues. For the next couple of months, crews expect to have two southbound lanes open and one northbound lane open. The PAC renovation is still in phase I with phase II expected to begin around July 2018. Phase II will involve interior construction and renovations.
A web cam is available online to check the progress of the PAC project.
Fuquay Welcome Center
Bids for the new Fuquay Welcome Center, located between the Orr Center and Performance Center, were awarded to Empire Contractor's and work began on Friday, August 18.  Fencing was moved and will block the sidewalk on the south side along the University Center and Performance Center. The 6,000-square-foot facility will serve as the central point for convening all campus tours, as well as accommodating the more than 200,000 people who annually use the USI campus for activities other than academic classes. We'll keep you updated as more details about the project are available.
Health Professions Center
The Health Professions Center has seen lots of action as the upper corners of the building, previously balconies, were enclosed to create added academic space. The third floor of the building entered phase I of a two-phase project. The third floor will include new offices, classrooms, lounge space and a fully-equipped kitchen for the Nutrition Department to use. The space will continue to be shared with the IU Med School until July 2018. Phase II will include moving the IU Med School out, leaving the entire third floor for USI's needs. Phase I is expected to be finalized by the end of next month with around a dozen or so faculty and administrators moving to the new offices.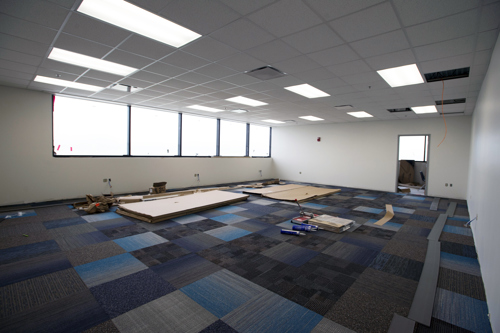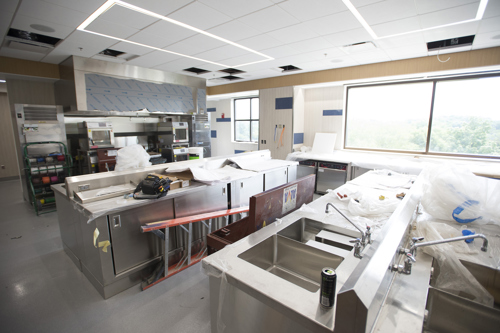 Registrar's Office
The Registrar's Office was renovated to create a more open and welcoming environment. The service window facing the hallway was removed and a glass entrance leading to a small lounge area has taken its place. Offices were rearranged and a combination of glass and frosted glass walls add to the open environment. The long counter inside was partitioned off giving employees their own space and making it less confusing for guests entering the office. A new conference room gives the office a much needed meeting space and a storage room was also added.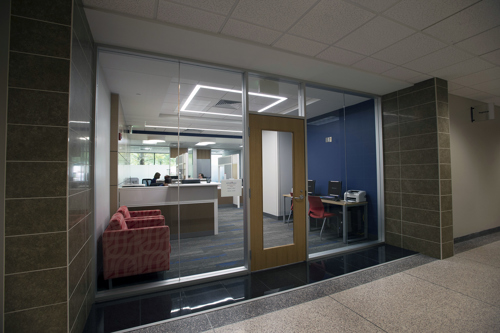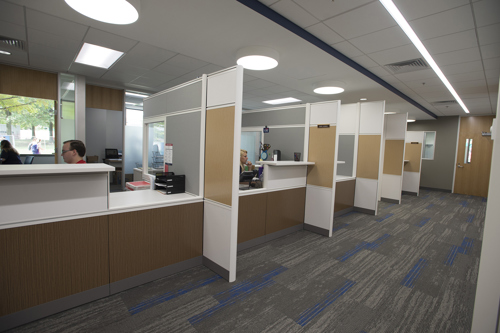 Added Security
A project to add thumb locks, which can be locked from the inside, was completed for many classrooms and office suites. This adds an additional layer of security in the event of an active shooter or other threats. Facility Operations and Planning is now working to add locks to on labs and conference rooms, and expects to have the process completed by the end of the year.
Residence Halls and Apartments
Several apartments and residence halls received renovations including new carpet, paint, flooring, cabinets and bathrooms. Others were given a facelift, freshened up with new carpet and paint, and exterior stairs replaced. New card-swipe access controls were added to replace keys. The smart card allows a student entry to only their own room and building. New fire alarms also were added to 10 of the apartment buildings. 
Additional projects included
New furniture for Admissions
Updates finishes and furniture in Liberal Arts classrooms and lounge areas
Lighting in Carter Hall to be replaced over Winter Break
Arts Center roof to be replaced