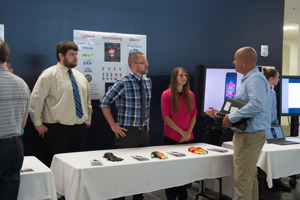 The University of Southern Indiana's Technology Commercialization Academy (TCA) teams will present final product pitches at 11 a.m. Friday, July 28 in the Business and Engineering Center Atrium located on the USI campus. The teams' pitches are the result from the 12-week program that focuses on applying a process known as Design Thinking to ventures or product ideas. The end goal is to develop innovative leaders and improve area economic development. The product pitches are open to the public as students will present to USI faculty and staff, local business leaders and regional entrepreneurs.
During the program, some students work with regional businesses that are looking to gain momentum on a stagnant idea or new venture. Students work in teams and with the client to develop a solution. Students also have the opportunity to develop an idea of their own.
"Before the TCA, all prototyping was done in my garage," said Kolten Turner, USI senior business administration student and TCA participant. "Working here has allowed me to collaborate with people and technology that I would've never had access to if I were on my own. It's allowed me to further my knowledge of manufacturing processes as well as building a product that a customer wants or needs rather than what I think the customer wants or needs."
At the conclusion of presentations, audience members will have the opportunity to meet the teams and ask in-depth questions to learn more about their experience. This discussion will benefit the students and their ability to accept feedback and apply that to their experience through TCA. Students will have the opportunity to continue working on their products through USI programs, such as the Eagle Innovation Accelerator and BIZCOM, during the academic year.
To RSVP for the event or for more information on USI's Technology Commercialization Academy, visit USI.edu/TCA.