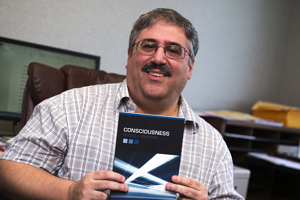 While the concept of consciousness may be familiar to all of us, questions surrounding the topic have been some of the most perplexing to answer: When the body dies, does the mind also die or does a continued state of consciousness/afterlife exist? Are the mind, soul and consciousness one and the same? How does brain damage or psychopathology affect conscious perception? These are just a few of the issues Dr. Rocco Gennaro, professor of philosophy, takes on in his new book, Consciousness.
Gennaro has done extensive research on the topic of consciousness, having authored books, articles and spoken at conferences throughout the United States and several other countries. He refers to the "mind/body problem" and examines two competing viewpoints: dualism and materialism. Basically defined, substance dualism is the belief that the body and mind can exist separately and that consciousness continues after bodily death (afterlife). Materialism holds that the mind and body are more closely connected and point to cases of brain damage and how it changes conscious experience. Materialists generally believe that when the body/brain dies so does consciousness.
Gennaro's book also examines how cognitive deficits result in abnormal perceptions. He explores how consciousness is altered for individuals with amnesia, schizophrenia, dissociative identity disorder and phantom limb pain. He also looks at a few lesser known conditions, such as somatoparaphenia, a type of body delusion causing one to deny ownership of a limb or even an entire side of their body, and synesthesia, a condition that causes two or more senses normally experienced separately to be automatically and involuntarily joined together. For example, a person may experience a color when they see a letter or number or "hear" a color.
Consciousness features chapters on neuroscience and attention as well as representational and cognitive theories of consciousness. Animals and machines are also explored as Gennaro poses the questions: Can animals understand other minds, or will artificial intelligence advance to the stage that machines are conscious?
Gennaro has published over 50 articles and book chapters, as well as written and/or edited ten books. Find out more about Gennaro.
His latest book, Consciousness is available for purchase online through Routledge Press.