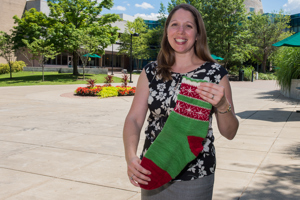 Jaclyn Dumond, assistant director of Lifelong Learning in Outreach and Engagement, manages a dual responsibility at the University. She is tasked with keeping the College Achievement Program, as well as the multitude of non-credit courses offered by the department, running smoothly. When her phone rings, it could be anyone, high school superintendents, students' parents, faculty or customers looking to register for a non-credit course. What could be challenging for some, is what she loves the most about the variance of her role at USI. After nearly 14 years, she still loves seeing what a new day brings. Let's get to know Jaclyn Dumond.
What do you enjoy most about your job?
There are all different kinds of people to interact with all the time. It's fun to see the big picture and fit pieces together like a puzzle. It's intellectually stimulating. It's been a lot to learn, but if you don't like to learn, you shouldn't work in Lifelong Learning. I definitely enjoy the people I work with in our office and the people I work with around campus.
What do you like to do in your spare time?
I have two sons, William age 4 and Henry who is 18 months old. When the boys are awake, I like to play with them. We like to run around outside, walk the trails and go to the playgrounds. We're trying to work on ball catching skills, ironically I don't have those.
Sans children, I like to exercise – walking, biking, running. My sedentary activity is reading or knitting.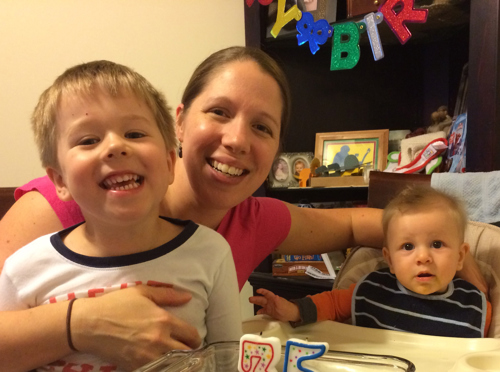 What children's television show is the hardest to watch?
That could have been a two-part question: the show that's hardest to watch and the theme song that's impossible to get out of your head and will literally keep you up all night. The show that I think is the hardest to watch is Super Why. I realize that they're trying to promote literacy, but the morals of the stories are completely skewed. They just put everything in a blender and try to make like a 2017 version of Three Little Pigs and I'm just not buying it.
As far as theme songs, I've run through several that have made me crazy: Mickey Mouse Clubhouse, Thomas the Tank Engine and Calliou.
If you could change one thing about yourself, what would it be?
Less of a sweet tooth. Not only do I like to bake, I like to eat what I bake.
In what ways are you the same as your childhood self?
I still have a strong dislike for being bothered while I'm reading. If I'm in a good book and you talk to me, you might get kicked. The other thing is my sense of humor. I've always liked the absurd or slapstick, like a cat cooking dinner is just hilarious to me.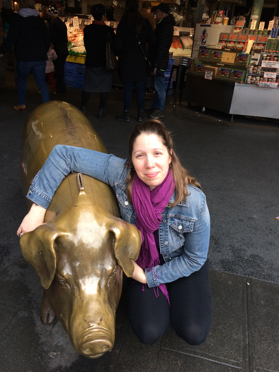 What book should everyone read? Why?
The Universe in Your Hand: A Journey Through Space, Time and Beyond by Christophe Galfard. He has a doctorate in theoretical physics. For somebody who enjoyed science but didn't end up majoring or working in the science field, I still am very curious about science. It offers an accessible narrative description of what's going on in the universe. He's also co-written books with Stephen Hawking.
Tell me something you dislike doing. Why?
Cleaning my bathtub, perhaps because it seems futile. I need to find a way to enjoy it. Maybe a song would help. Perhaps someone will read this and have a great solution for cleaning the bathtub.
What should I know that I haven't asked about?
You should probably know about my knitted Christmas stocking of shame. It is roughly the length of my arm and the top of it would go around an average person's leg, but the bottom would only fit the Big Friendly Giant. It's all because I decided to knit my first sock-shaped object by using several advanced knitting techniques at once, all while thinking "I don't need to follow that pattern. I can do my own thing." It has caused a bit of knit Christmas stocking paralysis, but I kept it. I've managed to make another child since, but I haven't managed to make any more Christmas stockings.