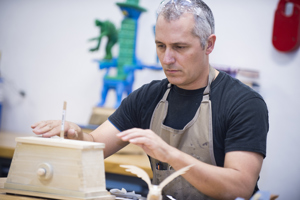 When art and design faculty aren't busy teaching students art techniques, they are often creating their own work. USI is home to many gifted artists who have been exhibited worldwide. In this series we asked a member of the USI art faculty to talk about a favorite work they created and the meaning or influence behind it.
We kick this series off with Rob Millard-Mendez, the chair of the Art and Design Department and associate professor of art at USI. His work has been shown in 510 exhibitions, both internationally and in all 50 states. His art has been featured in Sculpture Magazine, American Craft Magazine and numerous books and pieces have found homes in more than 75 private and public collections.
STYLE:
"My style is fairly eclectic in that I'm working with all kinds of different materials," said Millard-Mendez. "There's not one signature material that is decidedly my own. My style is also kind of chunky and inspired by American folk art. It's meant to be sarcastic and funny. I like to play with the levels of craft in art, so my work ranges from meticulously crafted items to more bare works that show the process of the creation."
A FAVORITE PIECE: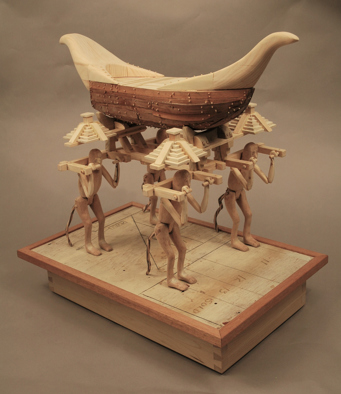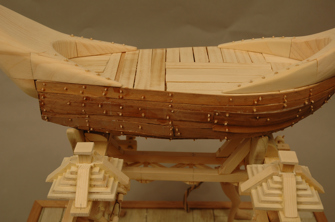 Rob Millard-Mendez, The Antediluvian Plan of the Manikin Men (from the Popol Vuh) wood, paint, 19"h x 22"w x 16"d, 2015.
STORY BEHIND THIS WORK:
"The Popol Vuh is a Mayan creation myth," said Millard-Mendez. The story in a nutshell is that the gods created a population to worship them and they make a couple of attempts. One of the attempts is to make manikin men out of wood and resin, but what happens is these manikin men aren't smart enough or don't care enough to worship them. The gods then send a flood to destroy them."
He had initially intended to paint and finish the whole piece, but after a suggestion from his wife, Nancy Raen-Mendez, instructor in art, he decided on the "naked style." The "naked style," was an approach by another artist Millard-Mendez followed, George Lopez, a southwestern carver of saints and angels who often went with this unfinished approach.
In Millard-Mendez's piece, you can find glue marks and pencil lines marking measurements. This style allows viewers a glimpse into the process of creating the work. He also utilized a variety of species of wood. The entire piece is made from repurposed material including mahogany that he has kept from scraps used during his days as a contractor in Massachusetts, nearly 20 years ago.
CURRENT PROJECTS: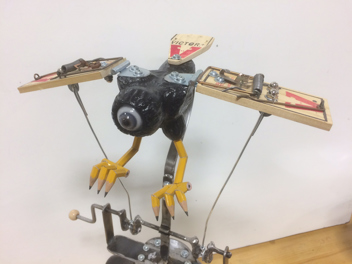 Rob Millard-Mendez, The Poet's Dilemma, wood, steel, paint, glass eye, pencils, paper, mousetraps, 36"h x 13"w x 11"d, 2017
He recently completed a piece called "The Poet's Dilemma," an interactive piece featuring a cyclops bird with wings made of mice traps, legs and talons made of pencils mounted on a base with a hand crank.
He is currently working on a piece for the USI Faculty Show held in the McCutchan Art Center and Pace Galleries, about the famous philosopher, Immanuel Kant. Millard-Mendez describes the piece as "being a commentary about Kant's bridge between realism and idealism and the negotiation of both."
More of Millard-Mendez's can be found on his website.