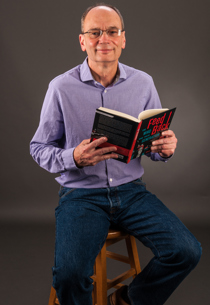 Having penned and published academic books about French history previously, Dr. Casey Harison, professor of history, went a different route, writing about a band that had been influential to him as a youth, The Who. In his book, Feedback: The Who and Their Generation, he examines a band that spoke to a generation of disenfranchised young people, especially working class males in both England and America in the 1960s and 70s.
Harison was one of the young men that The Who's music resonated with. "The mix of their raw power, commanding live performances and esoteric themes really appealed to me," he said. Pete Townshend, the band's primary songwriter and guitar bashing lead guitarist especially resonated with Harison.  "Townshend was a spokesperson for a certain generation for a long time," said Harison. "He had a way of articulating the anger caused by socioeconomic conditions, and lending a voice to what many were feeling."
Known for onstage destruction of instruments, high volume, guitar feedback and lyrics that illustrated the frustration and anger of a generation, The Who evolved musically from British pop to hard rock and storytelling concept albums like Tommy and Quadrophenia.  
Harison's book traces the history of the band and how it shaped culture and left its mark on rock n' roll. And while this was a book that he had wanted to write for a while, his next project will return to 19th century French history with a survey textbook set for 2018.
Feedback: The Who and Their Generation is available on Amazon.