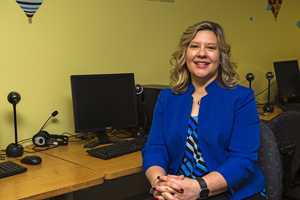 Over the past several years, Information Technology has kept a keen eye on cyber security and protecting the University. This led to the development of a new position in the department dedicated to cyber security: assistant director of information technology security. Stacy Draper was chosen to fill this role in February 2017, and brought with her 17 years of experience working for a credit card service provider managing their information security program. She is an alumna of USI, graduating in 1996 with an associate's degree in business administration.
Draper's philosophy is strongly wrapped around the concepts of team work, a can-do attitude, process improvement and perseverance. We are happy to welcome her to the USI family and take the time to get to know her a little better.
What attracted you to USI?
One of the things that really interested me in this position was the opportunity to get back to my roots; to those things I've felt have highlighted my career so far. I liked the feel of campus and the community it brings, and I was excited to bring my strengths from the information security world to USI.
I see this new position as new opportunities. I'm continuing with the initiatives that were started here before I came, but didn't have enough resources to make full progress. There won't be days without struggle, but they are all for the betterment of the University.
What are some of your goals?
We want to have an environment and a culture at the University where individuals understand potential threats and are security minded. How we'll obtain that is by having reliable infrastructure and a policy that outlines the principles and standards we're achieving and want all of our employees and students to achieve as well. We'll continually be in a priority risk assessment cycle so we make sure that we're focusing on the right things to protect the University.
We want to focus on training and awareness and look at how we should respond during an incident. From a long term perspective, we'll adopt an industry framework on cyber security. It's ever-changing so you have to be nimble and react to things that are happening at other universities or in the corporate world, and make sure we relate that to what we need here.
I've found the right attitude and, a willingness to do some hard work has produced good experiences and opportunities, and from that, I've learned that I'm wired for process improvement initiatives. I've also developed a servant leadership approach. I'm not too into the hierarchy approach of companies, but more of how a team approach can support the work environment. Whether serving as a leader or project manager, there's always a team dynamic in the things I do. I'm very passionate about that.
What's the bravest thing you've ever done?
I struggled with this question. I've led a pretty charmed life. Maybe it's more lifelong perseverance than any single brave instance. My husband said it was eight years ago when I was doing a lot of running and had to have emergency surgery to remove my gall bladder. The days leading up to the surgery, I never missed a workout. He said "Your bravest act was that you were still running even though you were in that much pain." But for me, I go back to "that's perseverance." I was committed to those health goals and I wasn't going to let anything stand in my way. I really didn't see it as bravery, but that's what stood out in his mind. I really take that all the way back to that perseverance mindset – you can accomplish anything. You might be slower, smaller or take a more winding path, but you can get there.
I have found in both my personal and professional life that I may not be top of the class, but I'm willing to stick it out. I'm willing to go the extra mile and that has worked well for me as I have moved forward in both personal and professional endeavors.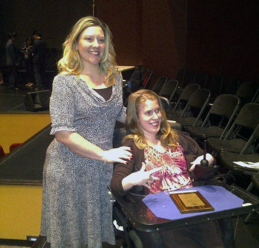 Who has been an inspiration in your life?
I have a younger sister who has cerebral palsy and is confined to a wheelchair. When she was born she weighed one pound 12 oz. and was a miracle child. Just getting to come home from the hospital was a great achievement for her. There wasn't a lot of positive thoughts about what she'd be able to do physically or mentally. As she developed she did have the physical challenges – she's quadriplegic and can't feed herself or have any voluntary movement of her legs. Although she has physical limitations, she doesn't have any of the mental limitations. I watched her tackle life as if there are no obstacles, so that whole perseverance thing I think I learned through her and watching her accomplish all these things.
Although I wasn't personally afflicted with those challenges I can see first-hand how you can make the best of a situation you're handed. She ended up going to college at Vincennes University and then came to USI and got her bachelor's degree in social work (Kristen Dimmett '13). Although she's not employed anywhere, she volunteers three days a week as a social worker. She's making the most out of the education she received. So when I think about bravery, I would give it all to her, but what I've learned from her is perseverance. For any challenge I receive, I think of her. 
What's your favorite movie and why?
Pretty Woman, because anyone can realize their goals if surrounded by the right people. Plus, it's a great chick flick too.
When you have a sweet tooth what food do you crave?
The west side Hacienda, is my "Cheers." It's the place where they know my name. When I have out-of-office business meetings, I call it "conference room H." My family just calls it "The H." So after lunch at "The H," I would typically go across the street and have a Cold Stone creation – usually one of their specialty flavors, but if I'm not doing that, then I go with a Reese's feel – peanut butter ice cream, Reese's pieces and peanut butter cups. Also, life would not be the same without cinnamon gummy bears.
What's something about you that a lot of people don't know?
My sister was in the Price is Right fan club and became pen pals with one of the beauties. This was back in the Bob Barker days. They had us come out and we got to sit in the front row and watch the whole show. We got a backstage tour and had lunch with Bob and the beauties.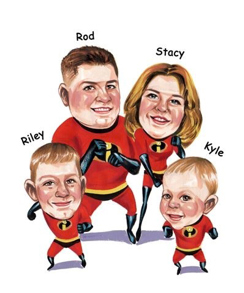 If you could bring any fictional character into the real world, who would it be?
I have two answers: Princess Leia because she knows how to get things done, and The Incredibles. When my boys were ages 2 and 8, The Incredibles came out and we have a caricature of our family as The Incredibles. As they were growing up we would always relate story lines to things that were going on in our family. 
What do enjoy doing in your leisure time?
I like to walk or run, especially anywhere in nature. I enjoy a lot of outdoor activities – hiking, landscaping or anything in the yard. I enjoy doing projects outside with my family.
I'm also a non-fiction, self-help junkie – from podcasts to books – I just soak it all in. I don't just read it and move on, I try to incorporate at least one thing from it. By reading The Four Agreements, I try not to make assumptions, speak with integrity, do my best and try not to take anything personally. Following what the book outlines has been instrumental in me not having all of that mental noise.
Looking for some suggested reading and ways to improve your personal and professional life? Here's a few of Draper's recommendations:
The Four Agreements by Don Miguel Ruiz
Three Signs of a Miserable Job by Patrick Lencioni
The Power of Habit by Charles Duhigg
Blink the Power of Thinking Without Thinking by Malcolm Gladwell
Lean In by Sheryl Sandberg
Overworked and Overwhelmed by Scott Eblin
Nothing Changes Until You Do, Be Yourself and Focus on the Good Stuff all by Mike Robbins