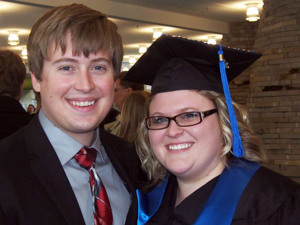 Being able to experience the USI campus as a student and as an employee makes you appreciate the many layers of the University. Inspiration from our caring and creative faculty lights a passion in many, making them want to call USI "home." In this Elevating Spirit@USI series, we'll speak to USI alumni who have chosen to make their career at USI.
USI was not Taylor Gogel's first choice when he was looking at universities to attend, but his devotion to USI was solidified during his first semester. He quickly developed a close connection with faculty in the Political Science Program and was able to apply what he was learning in class immediately to community service projects. "I fell in love with community development, learning about the residents and what drives community attachment," he said. "Through service learning projects, you're not just reading a book or producing a paper, you're actually producing something meaningful and impactful for the community."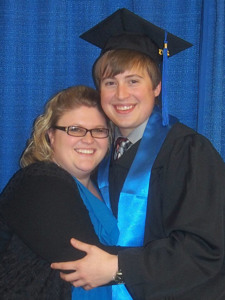 Along with a love for the University, Gogel found inspiration through a fellow USI student and his former high school chemistry lab partner, Hannah Blount '13. Gogel and Blount's friendship blossomed into romance and the two married after graduation. "I learned about the university through her perspective as well," said Gogel. "She was in the classroom from day one and was able to connect with students who would eventually be looking for a university to attend, so could talk to them about what USI meant to her."
After graduating with a bachelor's degree in political science in 2013, he stayed on at the University as an intern working with Dr. Mark Bernhard, associate provost in Outreach and Engagement and Dr. Kat Draughon, chief information officer in the Office of Planning, Research and Assessment, on the Carnegie Classification for Community Engagement. After his internship, he took a job in Owensboro for a couple years, but said that USI was always calling his name.
When a job was posted for annual giving officer in USI Foundation, Gogel jumped at the opportunity to establish a career here and make a positive contribution to the University's future. "I'm able to share my USI story with donors, so they can actually see what the USI experience is for a student." His job gives him an even greater appreciation of the University and its mission. "As a student, you get to feel it, but as an employee, you get to deliver it." He also gets to see firsthand the enormous impact that donors have on opportunities for students. "Without the private giving or the charity giving to this University, their academic experience wouldn't be the same," he said. "It's the folks who care about USI who are willing to invest in students, and that's what changes and broadens a lot of our academic programs."
Gogel is currently working toward a master's degree in public administration, and his love and devotion to USI still stands. "I feel like USI is my permanent home. To be honest, I see myself retiring from this University."