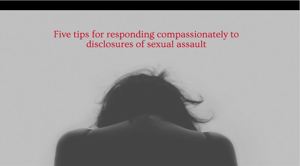 The reactions of others to disclosures of sexual assault are critical for helping the survivor heal and thrive. The goal is to make them feel safe and cared for. Verbal responses, language choices, tone of voice and body language are all important for the individual disclosing as they start to heal. Remember:
It is not up to you to decide how traumatic a situation is.
While it may seem normal to want to categorize verbal harassment as less traumatic than a completed rape, it is not up to you, the listener, to make that judgement. Violence can come in the violation of a person's body, of their sense of safety and security, and of their trust. Only the person experiencing it knows the level of trauma they are living through. Making comparison statements is harmful to the person disclosing and can affect them in a way where they may shut down and regret all attempts at asking for help.
Don't judge the veracity of an allegation.
It is not your job to pick apart a person's story. Remember, they trusted you enough to disclose a painful experience. You don't need to ask the when/where/how questions – that is for those involved in the Title IX process. Do acknowledge how difficult it is to disclose something like this and thank them for their bravery.
Remember that every person responds to trauma differently.
There is no "normal" way to react to a sexual assault or traumatic experience. Some survivors may avoid eye contact, seem confused or contradict themselves, or seem embarrassed and ashamed. Others may appear calm, unemotional or detached. Some may seem angry and reject offers of help. Don't judge their reaction based on how you think you would behave. There is no "standard" response to sexual assault.
Remember to make them feel in control.
Someone who has recently suffered an incident of domestic violence or a sexual assault has experienced a massive loss of control over their body and/or relationship. It's important for them to have a sense of agency over what happens next. Even small things, like asking if they would like the door open or shut while you talk, can make a difference in them regaining control. 
Remind them, as often as necessary, that it is not their fault
Often survivors will blame themselves, saying they should have done this or they shouldn't have done that. Reiterate, as often as needed, that it is not their fault. Consent can be withdrawn at any time. No matter how much alcohol was ingested, or previous flirting was done, no one ever has the right to touch or violate you without your consent.
Thank you for empowering students and making USI a safe, healthy place for everyone. Employee Resource Guides will be delivered to individual departments soon. Feel free to contact Melanie Kendrick, Title IX coordinator, with any questions or concerns, at 812-464-1703 or mkendrick2@usi.edu.