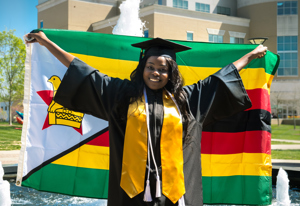 We have all kinds of amazing students across campus. We are close-knit community and bonds are forged with our students, and while we wish them all the best when they graduate, for those we have to bid adieu, saying goodbye is bittersweet. So whether you are moving on to a career, or staying at USI to attain a masters or doctorate, or are a USI employee who is continuing the tradition of lifelong learning, we're all proud of you and are proud to call you a part of our USI family. Stay in touch!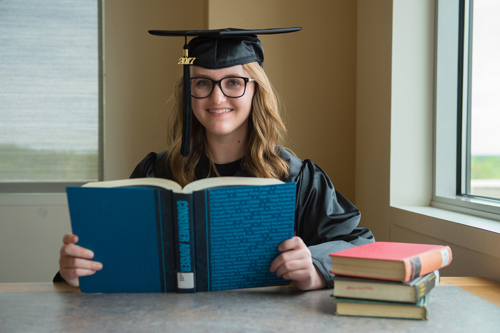 Aleisha Jones hit the ground running at USI with a business plan and personal life goals clutched in one hand, and a camera in the other. She has taken photos at commencement, in the classroom, on the court, on the stage and in the field. She has participated in start-up weekends and given business pitches. And she has acted as unofficial adviser to scores of freshmen students, helping them to develop their own business/life plans. This spring, she's graduating with a bachelor's degree in business administration. Never one to take it easy, Aleisha is already planning for an MBA, a doctorate, her first published marketing article, a post-grad trip to Europe and mentoring freshmen photographers.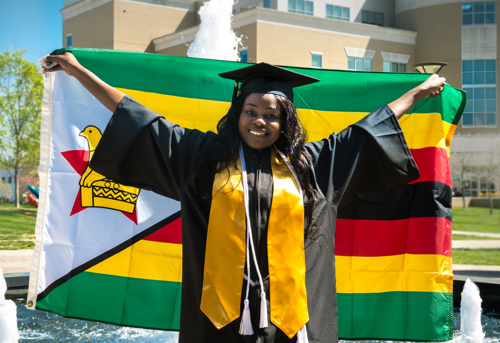 Florence Takaendesa was the first student from Zimbabwe to come to USI. With a firm foundation in math, physics and chemistry, she was sure she would become an engineer. However, her freshman core classes taught her to be open to possibilities beyond science. She took her love of math and added economics to the mix. During her final semester, she interned at Old National Bank as a quantitative analyst, where she expanded her understanding of how banking affects the economy. "It has been an eye-opening experience." Post graduation, Florence plans to pursue graduate school. She's been eyeing Ivy league schools and even London to further her understanding of how banking affects the global economy. A doctorate is in her 10-year plan and she hopes to, one day, be able to serve and contribute to her home country of Zimbabwe.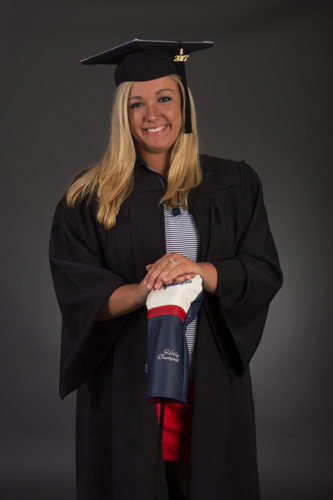 Owensboro native Holly Bumpus took a lot of slack from her high school sweetheart when he signed a letter of intent to play basketball with USI archrival Kentucky Wesleyan. But love, despite the rivalry, prevailed, and the two are now engaged. Holly plans to put her health services degree to use working in the field of gerontology. "I just love talking to elderly people and listening to their stories." And, she won't be resting on the laurels of her Academic All-GLVC honors, or her tournament appearances. She plans to continue her education by pursing a master degree through USI's Occupational Therapy Program.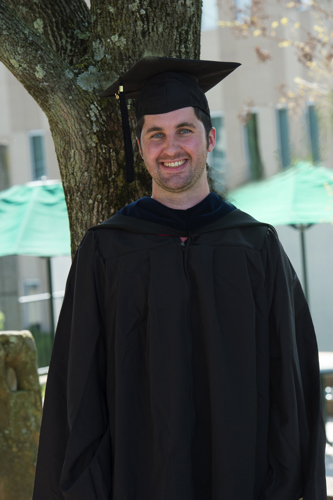 Globe trotting USI graduate student Kyle Courtney is planning a vacation to Spain after receiving his second degree from USI. His master's degree in occupational therapy will bookend his bachelor's degree in exercise science earned in 2014. A Newburgh, Indiana native, Kyle wants to shake the small town dust off his shoes and is considering a traveling occupational therapy job that will allow him to continue to pursue his love of seeing the world.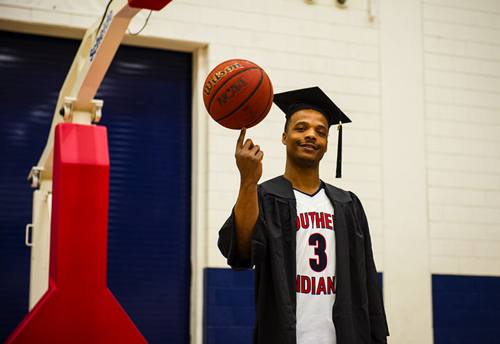 Peoria native Bobo Drummond lettered in track and basketball in high school. He brought his quickness to USI as a transfer student, finding a home with the Screaming Eagles. Establishing himself as a leader on the court and off, he fought through a back injury his senior year to win the ONB/USI Screaming Eagles Pride Award. This time around, Bobo's fans will cheer him on for a different reason from the bleachers of the PAC, when he receives his degree in sports management. Bobo is a fan favorite, who takes time to speak to everyone. "When I build bridges, I don't burn them," Drummond said. "You never know if someone is going to need you, or if you're going to need them. The biggest gift you can give someone is time. That's been the motto for me." Coach Watson says "It's all genuine. He's a guy you befriend and you're friends with the rest of your life."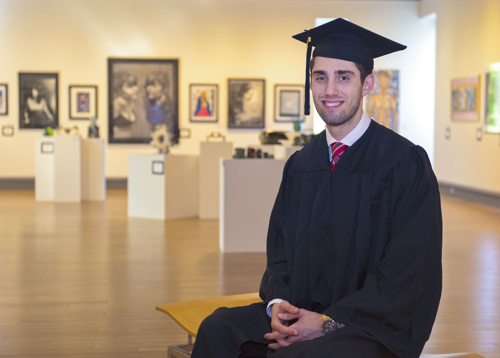 While at Mater Dei High School in Evansville, Jacob Hartz played three sports. When he was accepted at the University of Southern Indiana (along with his triplet siblings), the first generation student used the discipline he developed as an athlete to focus on his academics. He discovered his passion during a class in abnormal psychology. Focused on graduating in four years, he took a full load of courses every semester and during summer sessions. With a degree in psychology in hand, he plans to continue his education, working toward a master's degree and, ultimately, a career in counseling with a focus on mental health.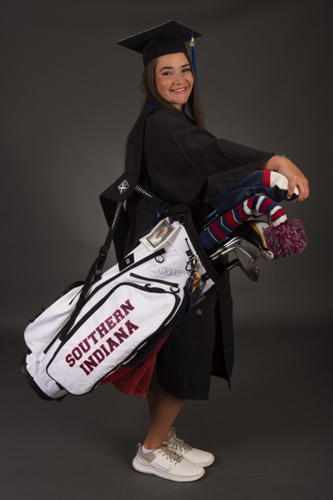 USI Romain College of Business student athlete Kori Jacobsen is missing out on the formal graduation ceremony to compete in the Women's Golf GLVC Championship in Waterloo, Illinois. She will return to USI to finish up finals, take a short rest and then head straight into grad school to begin work on a master's degree in Sport Management at USI. With All-American Scholar and Academic All-GLVC honors under her belt, pressure is nothing new to this honors graduate who is receiving a degree in Management and Marketing. Kori is keeping her post-education options open, but hasn't rules out coming back to a university setting as a coach or athletic director.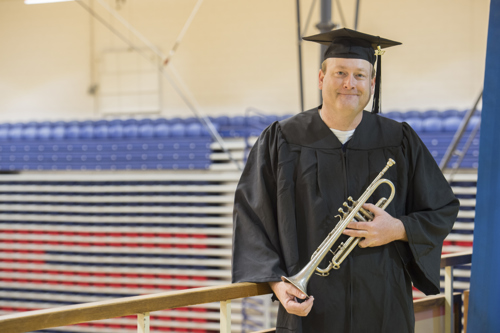 A non-traditional student, Tim Burklow worked in the public sector for 10 years before he had the opportunity to come to USI to complete his bachelor's degree in management. While a student in the Romain College of Business, he spent basketball seasons playing the trumpet in USI's Pep Band. He hopes to utilize the skills he developed to one day own and manage his own business.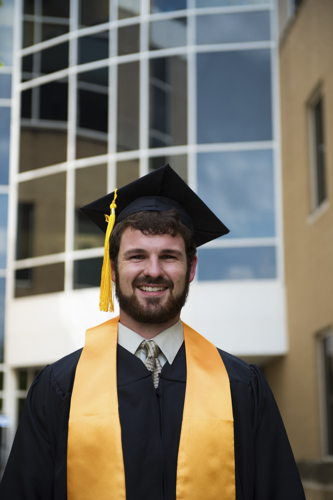 Like most local students, Biology major Jacob Mischler thought he wanted to get the heck out of town. He visited lots of campuses, but none of them felt right. His mom talked him into going to a Southern Hospitality Day, and right away, USI felt like home. "I have always been a nature guy, I loved the way campus was surrounded by woods. Everyone I met that day was so much more welcoming than at the other schools I visited." He always felt drawn to being a doctor, but after his freshman year, he decided to take the physician's assistant track to medical school. Currently he works a fast-paced job as an EMT at St. Vincent's Hospital's emergency room. "I love that job. I get to do lots of different things. There is never a dull moment. The bad days are the best days because it is not-stop excitement and education." Newly engaged to fellow screagle/finance major Presley Fohls, he looks forward to practicing medicine by his mid-twenties and becoming a family man. He encourages all those local students to visit campus and explore the option of living on campus. By living on campus, you are more likely to become an active participant in your college experience. Words from the wise. #USIgrad #ScreaglePride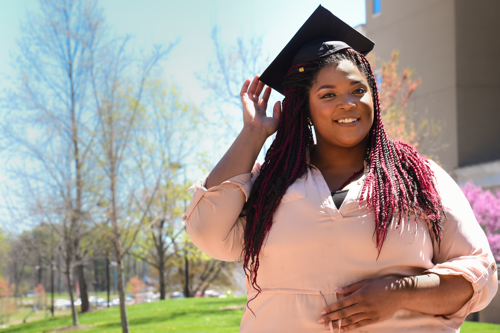 Aubrey Franklin, a Radio TV major, came to USI from Indianapolis as a self-described painfully shy freshman. After her first semester, she stepped out of her comfort zone and formed a new friendship with her roommate. That was just the beginning for Aubrey. She went on to blossom into a social butterfly, making it her goal to rescue other shy students from themselves. She has been a mentor to many students during her time at USI. She encouraged her friends to attend Activities Programming Board events and basketball games, and talked them into joining clubs and making new friends. While she is graduating and moving on, Aubrey is certain her protégés will continue the work she started to bring shy freshmen out of their rooms and into an amazing USI experience.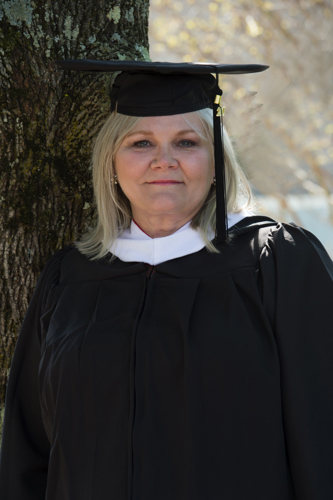 USI Academic Coordinator Theresa Ohning loves a challenge. From mud runs to pursuing to two bachelor's degrees, followed by a master's degree in second language acquisition, policy and culture, she's driven to succeed. As an academic coordinator, she teaches first-generation college students how to balance their schedules, and utilize study tips and leadership skills. She also oversees the peer mentoring program at USI, which helps train and match up first-generation scholars with other successful students. Ohning said that USI helped her to thrive by providing many education opportunities. These day's she's paying it forward by making sure Student Support Service-eligible students are equipped with the skills necessary to succeed.