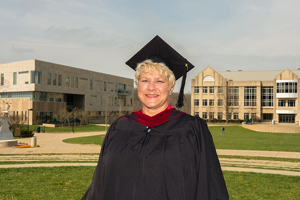 Michele Duran, senior administrative associate, had been told by some teachers in elementary school and high school that she "wasn't smart enough to go to college." She was even discouraged by a high school teacher, telling her she should "reconsider" her choice to attend USI because she "wouldn't make it through." Today, Duran prepares to walk during commencement to attain her master's degree in communication.
Duran enrolled at USI in 1984 seeking a bachelor's degree in business administration and when she failed during her first semester, she received an academic dismissal. It was a dark time for her and she believed the naysayers who had told her that she wouldn't make it.
A dramatic shift in her thinking came when an advisor in University Division contacted her and they met to discuss her academic future. "The first thing the advisor said was 'Tell me why you failed,'" said Duran. "I said, 'I guess because I'm not smart enough to be in college.'" The advisor assured her that her SAT scores reflected otherwise, and provided her with the resources and guidance she needed to succeed. As a first generation college student, she needed advice on how to study, and the instruction and tools her advisor gave her would ultimately lead to a completion of her bachelor's in business administration. "That was a critical, defining moment in my life," she said.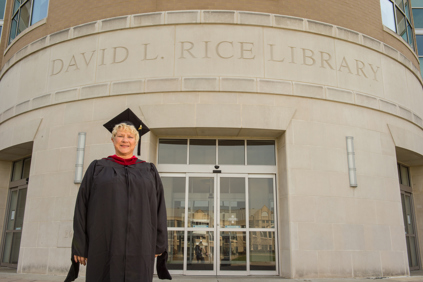 Being in the Provost's Office and interacting with faculty inspired Duran to further her education, and the Masters of Art in Communication seemed a good fit. Working towards a new degree didn't come without its own obstacles. She had to take two years off after her husband was injured at work and she took a second job to make the ends meet. Once she returned to the program, her father suffered a massive heart attack. With the cooperation of faculty, she was able to take the time to help get her father well and complete her requirements afterwards.
"All of the communications faculty have been wonderful," she said. "Dr. Wes Durham and Dr. Leigh Anne Howard have been my biggest supporters and helped me push through after a two-year hiatus." She also says USI's Provost, Dr. Ron Rochon, and Associate Provost, Shelly Blunt, have played an instrumental roles in motivating her along the way.
The academic journey for Duran may not end with a master's degree. She has visions of a doctorate in her future. "I joked when I was getting my master's that I was overcompensating," she said. "There was a scar I was still trying to heal. When people ask me 'Why are you getting this degree,' I say 'Because I can.'"
What advice would Duran give to a student who doubted their own abilities to succeed? "I would talk to them to see what factors are leading them to believe they can't do it," she said. "We have so many resources on campus, University Division, the Dean of Students Office, tutoring and the Counseling Center. I would also let them know that it isn't a lack of knowledge that will keep them from succeeding," she said. "They have it. They just have to know how to use it."