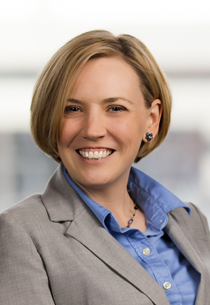 The University of Southern Indiana will hold a Commencement ceremony for undergraduate students in the College of Liberal Arts at 6 p.m. Saturday, April 29 in the Physical Activities Center (PAC) on the USI campus.
The 2017 College of Liberal Arts Commencement speaker is Dr. Jennifer C. Wright '03. A graduate of USI, Wright completed bachelor's degrees in psychology and sociology in 2003. She currently is branch chief of Customer Value Assessment and program manager of Voice of the Customer with the National Geospatial-Intelligence Agency (NGA).
After graduating from USI, Wright went on to the University of Oklahoma where she earned a master's degree in industrial and organizational psychology in 2007, and a doctorate in industrial and organizational psychology in 2010.
In her current role at NGA, she serves as the branch manager for the agency's Voice of the Customer program, managing a team of government and contract employees in delivering customer experience data to agency decision makers. Under her leadership, the Voice of the Customer team has developed new standards for measuring customer experience, improved the agency's understanding of its customer base and broadened the scope of capturing and acting on customer feedback.
Prior to working with NGA, Wright was a customer experience consultant and researcher with Altisource, Incorporated. During her time at Altisource she worked on a team developing a software platform for designing new marketing content based on psychological science and managed a customer communications program that delivered several campaigns aimed at helping distressed homeowners get mortgage assistance.
She is a member and reviewer for the Society for Industrial and Organizational Psychology and the Society for Consumer Psychology. She is a member of the Association for Psychological Science and the Customer Experience Professionals Association. Wright has volunteered with Goodwill Industries of Northwest North Carolina and the Center for Smart Financial Choices, helping people learn financial wellness and literacy.
Guests of graduates participating in the College of Liberal Arts ceremony will need tickets. A reception for the graduates and their friends and families will follow the ceremony and will be held in University Center East.
Three other colleges at USI will conduct ceremonies on April 29 according to this schedule:
Romain College of Business and Outreach and Engagement, 9 a.m.
Pott College of Science, Engineering, and Education, 3 p.m.
College of Nursing and Health Professions, 6 p.m.
A commencement ceremony for graduate students will be held at 6:30 p.m. on Friday, April 29 in the PAC.
Live video of each ceremony will be streamed in University Center East Conference Center (Rooms 2217-2220). The ceremonies also may be viewed online at USI.edu/live-stream.