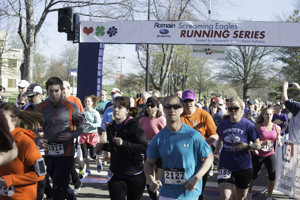 The University of Southern Indiana Romain Subaru Screaming Eagles Running Series, an annual three-race series held on and around the University of Southern Indiana campus, concludes Saturday, April 8 with the Spring into Fitness 10k.
Registration for the Spring into Fitness 10K is $20 until April 1, and $25 up until race day. Registration is available online or at the USI Recreation, Fitness and Wellness Center the day of the event.
The top three male and female runners in each age group will be recognized in an awards ceremony following the race. Awards also will be given to best overall male and female, and top challenged athlete in each division.
Following the Spring into Fitness 10k will be a free run for children. Children age birth to 9 will run or walk distances of 100 meters up to a half mile. All child runners will receive medals for participation. Strollers are welcome.
The course takes place along the scenic USI-Burdette Trail, where participants will run the entire length of the trail before looping back again. There will also be a free fitness expo featuring vendors from around the Evansville area.
Part of the proceeds from the series will go to the USI Sport Management Scholarship Fund, professional development opportunities and future events offered through USI's Kinesiology and Sport Department.
For more information or to register or volunteer for an event, visit USI.edu/running or contact Glenna Bower at gbower@usi.edu or 812-465-1265.