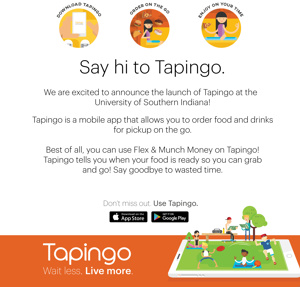 The online food ordering system, Tapingo is here. USI Dining Services announced the launch on Monday, March 20. Downloading the app on your phone allows you to place an order at participating food locations around campus and receive a text when it's ready to be picked up. The ability to browse menus, store favorite orders, and customize and add to orders is literally at your fingertips. Payment may be made through the app by credit card, Munch Money, or flex and board meal exchange.
Participating locations include:
Sub Connection
Starbucks
Chick-fil-A
Steak 'n Shake
Fiesta Fuego
Cyclone Salads
Archie's Pizzeria at the Eagle Express Convenience Store
The Tapingo system limits order intake to 20 orders every 15 minutes to prevent backlogs and slowdowns at the counter. Because customers have paid in advance, they simply pick up orders without going through checkout.
You can download the app from the Tapingo website, Google Play for Androids or the Apple App Store for iphones. You will receive a confirmation email; be sure to check your spam folder if it doesn't show up in your inbox.
Orders must be placed at least 15 minutes prior to closing hours. Restaurants that are closed will be grayed out.
A small service charge of approximately 40 cents (total has not yet been confirmed), will be applied to orders