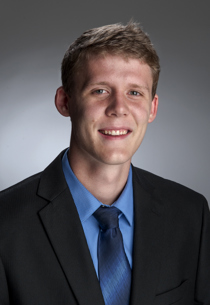 During the Pott College of Science, Engineering, and Education Commencement ceremony at the University of Southern Indiana on Saturday, April 29, Evan K. Stieler will receive the President's Medal, the highest honor presented to a graduate in the Class of 2017.
Stieler, who will graduate summa cum laude with a Bachelor of Science in Biology degree, has been a role model for all students, and has excelled in the classroom and in his volunteer efforts on campus and in the community.
While at USI, he was involved with AMIGOS, the Student Ambassador Organization, as a Resident Assistant for the Honors Living Learning Community (LLC), Student Government Association, student panels for search committees, the 2016-2020 Strategic Plan Committee, and the USI Foundation Board of Directors. In 2015, former Indiana Governor and current U.S. Vice President Mike Pence appointed Stieler to the USI Board of Trustees as the Student Trustee.
Stieler volunteers his time to the community with Impact Ministries Basketball Camp and Crossroads Youth Ministry. He is an emergency medical technician at St. Vincent Health – Evansville Emergency Department and a Patient Care Technician at Deaconess Health System. He is a member of the Pre-Professional Health Club, the National Collegiate Honors Council, the USI Honors Program and the National Society of Collegiate Scholars. He enjoys various USI intramural sports and serves as a counselor for USI Camp Eagle.
Described by one of his professors as "a rare kind of student that is brilliant, outgoing and inspiring to me as a teacher…the kind of student that makes me enjoy walking into the classroom every day," Stieler puts the same effort into his education outside of the classroom. As a research assistant for a local orthopedic surgeon, he completed a clinical research project involving shoulder replacement surgery.  He presented the project findings at a statewide meeting of the Indiana Orthopedic Society where he was the only undergraduate student to present.
During his years at USI, Stieler has received many accolades, including the Top Student Leader Award, New Resident Assistant of the Year, Distinguished Sophomore Award, Student Ambassador of the Year, Outstanding Freshman Student Leader, Who's Who Among Students in American Universities and Colleges, and 2015-2016 Homecoming King.
He is the son of Mark '84 and Amy Stieler of Newburgh, andhas two siblings, Allison, a USI sophomore studying nursing, and Jace, a junior at Castle High School. After graduation, Stieler plans to complete a Master of Business Administration degree while attending medical school to study orthopedic sports medicine.
Other finalists for USI's President's Medal from the Class of 2017 included Abigail E. Hughes, Alyssa B. Moore and Brittany M. Jones. The Student Affairs Committee of the Faculty Senate selects the President's Medal recipient.