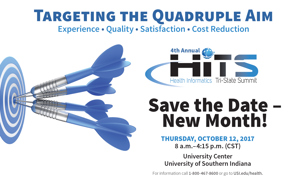 "Targeting the Quadruple Aim: Experience, Quality, Satisfaction and Cost Reduction" is the theme of the fourth annual Health Informatics Tri-State Summit (HITS), planned for Thursday, October 12, 2017 in the University Center at the University of Southern Indiana.
Dr. Gabriela Mustata Wilson, associate professor of Health Services and Health Administration, said the HITS conference was moved from January to October to accommodate the growing number of health professionals and students interested in the topic. She said as in previous years, HITS will focus on patient-centered care, cutting edge health information and the innovative solutions needed to take healthcare delivery to the next level.
HITS will be relevant to physicians, nurses, pharmacists, informaticists, health information technologists, medical practice managers, healthcare managers, health professionals, students and others whose scope of practice is related to health informatics.
More details will be posted soon at https://www.usi.edu/health/continuing-education/fall-programs/