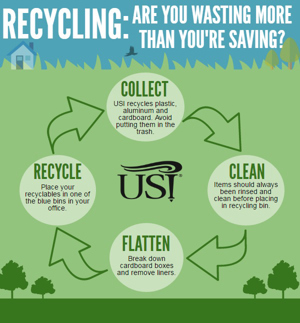 Can pizza boxes be recycled? Do I need to sort my recycled materials? Where can I recycle my items? Reduce, reuse and recycle may seem simple enough, but when it comes to figuring out what does or doesn't go in the recycling bin, it may get a tad confusing. We spoke with USI's Facility Operations and Planning Department about the University's recycling program and here is what we found out.
USI recycles all plastic material (except plastic labeled 6), aluminum and cardboard, and have recently started single-stream recycling, which means you no longer have to sort your materials – you can mix all of your recyclable materials in one bin! Make good use of the blue recycling bins beside your desk. If you are out and about on campus, there are recycling receptacles beside the trash cans in many of the  buildings. Additionally, there are eight green recycling dumpsters next to the blue trash dumpsters located around campus and 17 recycling stations for Housing residents.
Could that one piece of paper really have made a difference? The answer is yes! Every little bit helps and it all adds up. Each ton of recycled paper can save 17 trees, 380 gallons of oil, 3 cubic yards of landfill space, 4000 kilowatts of energy and 7,000 gallons of water. This represents a 64 percent energy savings, 58 percent water savings and 60 pounds less of air pollution.
Miles Mann, assistant director of Facility Operations, said that over a 12 week period last spring USI recycled 102,455 pounds of materials compared to disposing of 320,287 pounds of trash. We can all play a role in shifting more to the recycle column.
Here is what you can do to play your part:
DO
Collect all recyclable items and avoid putting them in the trash. USI recycles all plastic materials (plastic labeled 1, 2, 3, 4, 5, 7), aluminum and cardboard.
Rinse and clean out all of your materials. If things are considered "contaminated," such as milk jugs, bottles, pizza boxes, etc., they are thrown out. Items should always be rinsed, and anything with food still remaining in it should be thrown away.
Flatten and break down cardboard boxes and remove any liners. Flattened cardboard means less air, fewer pickups and lower costs.
DON'T
Throw your items outside of the recycling bin or leave the bin lids open. If the bins get wet, or get trash in them from being left open, they become difficult to work with or contaminated, and they will be thrown away. One piece of trash can ruin the whole bunch!
Place plastic bags, Styrofoam, food, trash and Kleenex or other sanitary items in recycle bins. Individuals servicing the bins don't have the time to pull all of these items out when they are improperly disposed of.
Trash the bins or stations. The individuals servicing the bins work hard to empty them and keep the facility nice. Please keep the bins and stations tidy, and only dispose of proper items, to help make their job as safe and efficient as possible.