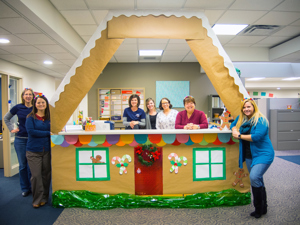 Journey back into your pre-school years and visit Peppermint Forest, Gum Drop Mountain, Lollipop Woods and Snowflake Lake. You don't even need to leave campus. Step in the Human Resources office and be instantly transported to Candy Land. Office doors are bedazzled with giant lollipops, peppermint stripes, snowmen, snowflakes and bright gumdrops. This year, the front desk has even been reimagined into a gingerbread house. Lining the walls are the familiar colorful game-board squares.  They've also made gingerbread tokens to actually play the game.
Each year the Human Resources staff chooses a theme, divides into teams and does some serious door decorating. With a 30-minute time limit, the teams tap into their creativity, (and this year, their inner child.) The winning team this year was the Gum Drop Mountain crew consisting of Ingrid Lindy, manager of human resource information systems; Jamie Schaefer Robey, human resources administrator; Becky Eckert, payroll assistant; Kate Rotramel, human resources generalist; and Crystal Blazier, student intern.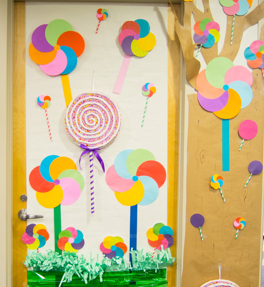 I was lucky enough to receive a guided tour through Candy Land by Lindy, Schaefer Robey, and Kim Garey, senior human resource assistant. While the decoration may be sweet, Lindy says the competition is fierce. The teams are cross-functional, so individuals who may not work closely together on a daily basis can work as a team creatively. "It's nice to take a few minutes a day to take you out of your head and do something fun together," said Garey. "It's definitely something to help us relieve stress during a time period which is usually pretty stressful for HR," said Lindy.
As USI continues to find ways through the Elevate Spirit @ USI campaign, Human Resources is a model for team-building and spirit-boosting. In addition to fun activities during the holiday season, Human Resources staff also give back. Every year they ask an organization to select individuals who typically do not receive gifts or visitors during the holidays and put together gift baskets for them. This year they are working with the Evansville State Hospital, and have received a wish list of what four of the residents there want. Additionally, HR will prepare and sign 160 Christmas cards for the rest of the residents. Last year they donated "Evansville winter baskets" stocked with warm clothing items, holiday movies and a couple of Evansville favorites: Ski and Grippos.
If your department is in need of a few new ideas for celebrating the holidays with your co-workers, here are a few suggestions that our Human Resources staff have incorporated through the years:
Put on a holiday movie and watch with co-workers over lunch break.
Have a hot drink day with hot chocolate, coffee, hot apple cider and a variety of teas.
Warm up with some homemade soup for the office.
Go to an after-hours sporting event together (this is a great idea for anytime of the year).
Have a holiday scavenger hunt.
Do a cookie or candy swap.
Share your favorite recipes. (Don't forget to include a sample).
Designate a day for an ugly Christmas sweater contest.
Have a mock Christmas morning. Wear pajamas to work and have pancakes for breakfast.
What does your department do for the holidays? Send me your holiday traditions to share and provide new inspirational ideas for other departments across campus. Don't forget to send me photos of your office decorations and celebrations for Campus Snapshots.