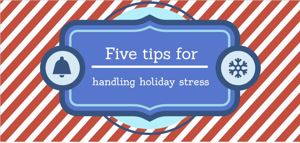 In an effort to enrich the lives and work of our USI community, we've begun a series of Five Tips, providing useful information you can incorporate on the job or at home. We've once again reached into the fountain of knowledge provided by our own faculty and staff. If you have useful tips to share for this series, you can submit them for consideration.
These tips come from Alyssia Haymond, staff counselor in the USI Counseling Center.
1. Maintain your healthy habits during the holiday season 
Don't let go of already in place healthy lifestyle habits. Overindulgence only adds to your stress. Eating a healthy snack before eating a dessert can decrease the likelihood of overeating on unhealthy foods. Additionally, starving yourself in anticipation of eating unhealthy is also ineffective and often leads to drinking and eating too much. Be sure that you're still prioritizing sleep, exercise and other healthy practices during the holiday season. 
 2. It's okay to say "NO"
Don't overextend yourself. The holidays are only enjoyable if you have the energy to allow them to be. Saying yes when you don't want to (or know you shouldn't) can lead to negative emotions, such as resentment or feeling overwhelmed. Learning to prioritize your time will ultimately allow for you to be fully present in planned activities and events. 
Additionally, be sure to plan ahead and designate specific time frames for the tasks you need to complete and the functions you plan to attend. This will give you time to mentally prepare and reduce the likelihood that you become overwhelmed with these tasks. 
 3. Recognize your feelings
The holidays can bring up painful memories, such as unresolved conflicts or the death of a loved one. Acknowledge that you are not responsible for other people's feelings. Know that it is okay to set aside past grievances until a more appropriate time. Even if they do not meet your expectations, try to accept your family and friends as they are. If you find yourself typically experiencing sadness, anger, or loneliness during the holiday season, you might consider taking a vacation, volunteering or spending time with people who are supportive and care about you.
 4. Be kind to yourself
It's easy to get caught up in the stress and excitement of the holidays, but it's still important to practice intentional self-care. Remember that comparing yourself to others never ends well. Additionally, take breaks when needed. This can include making time for yourself to take a walk, read a book, listen to music, or any other activity that works well for you to clear your mind. Reach out to others for support or companionship when needed. 
 5. Be realistic
Finally, have realistic expectations for the season. Create a budget for how much you can spend and stick to it. Everything will not be perfect or go exactly as planned. Traditions change and families grow. Be sure to hold on to some traditions and be open to changing others or creating new ones as needed.