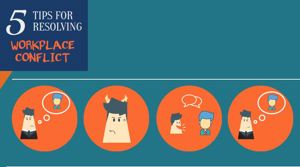 In an effort to enrich the lives and work of our USI community, we've begun a series of Five Tips, providing useful information you can incorporate on the job or at home. We've once again reached into the fountain of knowledge provided by our own faculty and staff. If you have useful tips to share for this series, you can submit them for consideration.
These tips include advice from Dr. Mark McKnight, associate professor of accounting and chair of accounting and finance. 
1. Recognize the problem
Don't let a problem fester so long that resentment is built up.
"People can disagree what the real issue is. You first have to determine a clear issue because it focuses you on isolating and solving one thing at a time," said Dr. Mark McKnight, associate professor of accounting and chair of accounting and finance.
2. Don't look for the quick solution
It may take time to get to the heart of the matter and establish healthy communication patterns which focus on facts instead of blame. Take the time to respectfully listen and hear what the other is saying and don't discredit their feelings.
3. Establish common ground
In order to work to a satisfactory resolution, recognizing common goals and establishing common ground is essential. Find a way to utilize and work with the strengths of the other. Different perspectives and views are important to keep creativity and innovative ideas flourishing in the workplace.
4. Diagnose the type of conflict
"There are three primary conflict types – they involve misunderstanding, disagreement about a specific issue or personality conflicts," said McKnight.  "Misunderstandings can be rectified quickly and easily through communication, whereas a true disagreement about a specific issue can take may take more time, effort, flexibility and communication in order to find a solution that is mutually beneficial."
"Personality clashes are sometimes called ego conflicts," said McKnight.  These are due to the internal personality traits or tendencies.  We usually make informal judgements based on how a person communicates which can lead people to overact or under-react. For example, if someone seems withdrawn and quiet, we can only speculate on what they are thinking.
5. Treat problems, not symptoms
"If people have disagreement, and my only goal is to stop an argument, then I've only treated a symptom," said McKnight. "While it is always a good first step to diffuse the situation, stop arguing and figure out what the underlying problem is, the goal is to get people focused on finding common ground and mutually acceptable and beneficial solutions."