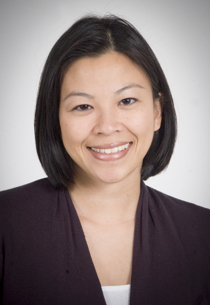 The recipient of the University of Southern Indiana's H. Lee Cooper Core Curriculum Teaching Award for academic year 2014-15 is Dr. Aimee Mark, associate professor of psychology.
In nominating Mark for the award, Dr. Julie Evey, chair of the Psychology Department, noted Mark's "passion for teaching, high level of preparedness, enthusiasm for the material and concern for her students."
"Dr. Mark is overall an excellent instructor," Evey wrote. "As one of her students noted, we are lucky to have her at USI. Particularly, we are pleased to have her as a part of the Core, getting students excited about learning important concepts they can use throughout their lives."
Mark was nominated for the award for her teaching in Introduction to Psychology, in which she teaches about 250 students a year. She advises about 50 psychology majors and is the advisor for USI's chapter of the Psi Chi national psychology honor society and co-advisor for the Psychology Club.
"Aimee Mark exemplifies the very essence of the H. Lee Cooper Core Curriculum Teaching Award," said Mary Hallock Morris, director of the University Core Curriculum. "Her creativity in the classroom and her passion for her subject matter are the key to helping our students learn."
Students describe Mark as an "inspiring," "wonderful professor" and "master lecturer who uses a variety of multimedia and real-world examples in order to clearly illustrate the content covered." She is "accessible to students and always willing and eager to provide assistance" and "loves to teach."
Mark joined USI in 2007 as assistant professor of psychology immediately after graduate school at University of Kentucky. Her PhD is in experimental psychology. Her bachelor's degree is from St. Louis University.
As this year's winner, Mark will deliver a presentation to the University community during the 2014-15 academic year. Details will be released at a later date.
The Cooper award is named in honor of H. Lee Cooper, a long-time friend and supporter of USI. The award was officially presented at the Fall Faculty and Administrative Staff Meeting on August 19. It includes a generous stipend, a plaque, and additional monies for travel and related faculty development.