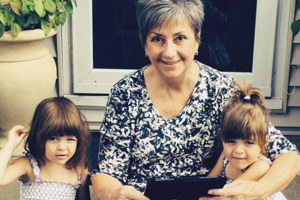 Karen Altstadt, publications associate in Creative and Print Services, is a magnetic personality in the Publishing Services Center, affectionately dubbed the PUB. Karen is quick with a quip and is always smiling. A day rarely passes that you won't see people stop for a few moments to talk with Karen.
Karen began working at USI when her youngest son, Jon, was in kindergarten. She is a mother of three sons and the proud grandmother of 2-year-old twin girls and an 8-year-old grandson.
So, let's get to know Karen.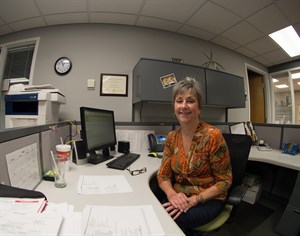 When did you begin working at USI?
May, 1990
Tell me about the positions you've held here and briefly what you did in each.
I worked for the late Dr. Aldo Cardarelli in teacher education in a two-year program funded by a Lily grant. The program was called Teachers Under Cover and served as a book club for reading teachers across the state of Indiana. Teachers would all read the same book, funded with grant monies, and send comments to Dr. Cardarelli describing their book club gatherings. I would compose a newsletter highlighting teachers' remarks and outlining news from each of the participating schools. The program, culminated each spring with a luncheon in Indianapolis. This was in the days before the Internet, so the newsletter, composed and typed on a word processing typewriter, was the primary method of communication.
I worked for Kathy Funke in News and Information (University Communications) for 11 years. I provided support to the department, supervised student workers, compiled information for the Editor's Manual and the Speakers Bureaus, placed University Notes (now called USI Today) online and provided proofreading services for USI publications. One of my main duties was to coordinate, format, and proofread the USI Bulletin in preparation for outsourced printing.
How long have you worked in Creative and Print Services (formerly Publishing Services)?
I've worked in Creative and Print Services for 10 years. Here, I proofread everything that comes out of this building, marketing pieces, newsletters etc. I schedule the designers and the presses and the Copy Center for jobs that come through. Any requisition for a printing job comes to me. At any given time we could have 100 or more jobs on the production schedule. I also handle accounting and chargebacks.
What's your favorite thing about working at USI?
As with each of my jobs here at USI, I most enjoy the people I work with. I've been very lucky in each position to work with great people. This job requires a lot of communicating with folks across campus, and I've made many friends (some I have actually met and many phone buddies). It's always been the people. It's all about the love.
My co-workers are like my second family. I've shared many of life's important moments with colleagues. So co-workers have been a huge support system throughout the years – from the challenges of being a full-time working mother of three young boys, to enjoying time off to spend with my grandchildren, it's been an interesting journey.
I also like variety and challenges, and have plenty of each with this job. I am perhaps strange in that I love to proofread, so this is the perfect place for me. I learn something new every day.

Is there something unique about working in the PUB?
Yeah. We're very busy but it's a more casual environment. We're a creative bunch and I like that.
What do you hope to be remembered by?
I hope that when/if I'm remembered, I am remembered as a friend.
What is the best piece of advice you've ever received and by whom?
From my mother, of course: "Life is short; be happy."
What was your first job?
Popcorn girl at the Ross Theatre; it was the best job ever – working with high school buddies, free movies and all the popcorn you could eat.
What is your biggest pet peeve?
People with no sense of humor.
Fill in the blank. If I wanted to impress you, I'd tell you I once ­_________________.
Had three boys under the age of four, attended a live Beatles' concert in Indianapolis or that I shook hands with President Lyndon B. Johnson and his wife, Lady Bird.
I was asked to be in a group of six girls wearing straw hats and banners when President Johnson landed at the airport. We sang "Well hello Lyndon" to the tune of "Hello Dolly".
Tell me about seeing the Beatles.
I was 14 or 15 and I went with a friend. Tickets were five dollars and I just remember sitting in the bleachers at the racetrack at the State Fairgrounds. They looked little bitty because they were so far away, but it was just thrilling. I think they sang 11 songs.
What's your favorite line from a song?
"And in the end the love you take is equal to the love you make."  – The Beatles, "The End", from Abbey Road.
What is something about you that people would be surprised to learn?
I am one of seven children. I used to sing with the Evansville Philharmonic Chorus. I play the piano and used to play the accordion, and I'm terrified of hyenas.
The accordion? That trumps the piano, right?
It's so cheesy though. I did play it as a child much to the chagrin of most of my family. I played it loudly and with gusto.
Do you still own an accordion?
I don't still own an accordion.  I had my old one for years, and used to embarrass my boys by playing it ...loudly! That's the very best thing about accordions–they're loud and embarrassing. But it sustained water damage and was beyond repair.
When were you in the Philharmonic Chorus?
Early to mid-1980s when I was having babies. I was always hoping they were hearing this beautiful music so they would love classical music, but it didn't work. They do have eclectic tastes in music though.
I sang all my life with my family and this sounds really corny, but my mother would play the piano and we'd all stand around the piano and sing. We sang harmonies and we sang rounds. It was always magical for me. I loved that.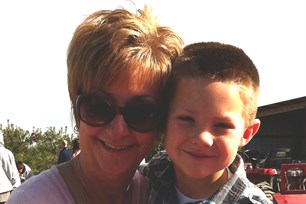 Tell me about your 2-year-old granddaughters, Scarlet and Lily, and your grandson, Aidan.
It's going to make me cry. You worry through the years, when you're raising your kids, about whether you're doing the right things. To see them be parents, and good parents, is the most thrilling thing on earth. Then to have these precious children to love, I can't even describe it. They are just pure sweetness.