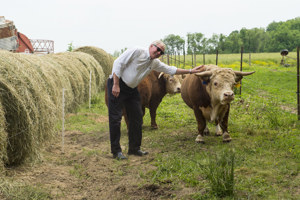 See more images of Helfrich's life on the farm.
On July 31, Steve Helfrich, director of Facility Operations and Planning and will climb into his truck and head down University Boulevard toward a new life as a retiree. The road to retirement happens to be gravel and lies between two cornfields. He'll drive past wild Queen Ann's lace - a cloud of dust behind him. At the end of the road, lays a lovingly restored white clapboard farmhouse, a huge, dilapidated barn, several out buildings, a garden, acres of rolling countryside and a hammock, gently swaying in the breeze. It's a country boy's paradise.
But the hammock will have to wait, for as many country boys know, there are chores to be done on a farm. "I have a couple years' worth of projects to do," muses Helfrich. "The old barn needs a new foundation and some new siding, there are fences to repair, wooded areas to clean out, and I probably need to paint the house." Not to mention, the acres of hay and alfalfa that need to be cut, raked, baled and stored.
Just a few miles from USI, Helfrich's hobby farm is a rural slice of heaven, complete with free-range banty hens and roosters roaming the yard and fat bumble bees lazily wafting from the herb garden to the zinnia's circling the vegetable garden. His greeting party, two friendly farm dogs wait at the end of the driveway. Their tails wag lazily, but their eyes shine with expectation of a pat on the head. They've more than likely just awaken at the sound of the truck on the gravel road and are ready for the adventures of a life on the farm.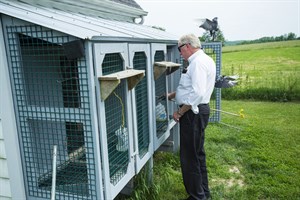 Two full pigeon lofts are situated just past the farmhouse. "I remember when I got my first set of pigeons, " recalled Helfrich, smiling. "I was eight years old. My sister's husband gave my brother and me 10 of them. We went and got them in our old blue station wagon. The pigeons were in back of the station wagon. I was in the back seat, turned around on my knees just staring at them the whole time. I was so excited. Once home, he and his brother decided to give the pigeons a test run and released them. They knew that the pigeons would fly a short distance and then use their natural homing instinct to return to where they were released. "Two came back," he chuckled.
With a nearly encyclopedic knowledge of handling, training and breeding pigeons, Helfrich's lofts now hold 100 pigeons. He opens the doors of their lofts and there is a rush of wings as they pour out. Together the pigeons rise to the sky, circle the farm two to three times and then take off to get their daily exercise, returning 30 minutes later. Obviously, his skills at handling pigeonsas improved since that first disastrous release.
Beyond the farm buildings are fields that hold Helfrich's latest interest, miniature Hereford cattle. Half the size of his regular Angus cattle, the Herefords are docile, with long-lashed eyes.  Even the long-horned miniature steer could be considered cute. Helfrich stands at the fence and calls to them "Hup! Hup! Hup! Hup!" which roughly translates to "I have food for you." They rise from the shade of the tree in the east field and bellow a response, eagerly trotting towards the gate in anticipation of the buckets of feed. 
Helfrich and his wife, Maria, have bottle-fed miniature calves. He has even assisted with the birthing of some of the calves. "It's pretty stressful, because in the case of a breech birth, both the mother and calf could die. But it's also pretty cool." He recalls administering CPR to a struggling newborn calf.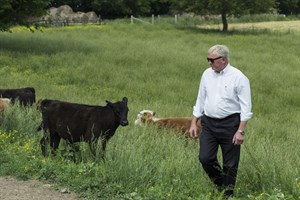 Beyond the barn and the cows, are the fields of hay and alfalfa, which take a lot of Helfrich's time. The July 4th weekend was not one of cookouts and relaxing in the hammock. It was 10-hour days of cutting, raking, baling and hauling away the hay and alfalfa, with the occasional repair of the machinery to break up the monotony. "I've been doing this my whole life. It's an old habit. I was out in the field working on the baler, which broke down, I thought to myself, 'what am I doing this for'? Then I came up with the answer, 'because I'm goofy.'"
Helfrich's immediate plans following retirement include visits to see his three daughters who live out of the area. But after a few days, he'll be itching to come back home. On the farm there's always something to attend to. "I'm a home body.  I'm not used to sitting around. If there is good weather, I'm outside. If the weather is not so good, I'm outside. I'm always working on something."
Once the summer ends, Helfrich and his wife plan to can vegetables out of the garden, including squash, tomatoes, green beans, sweet potatoes and onions. Perhaps after that, he'll be able to spend a little time in his hammock, reading Hobby Farms magazine and enjoying life as a retiree. But it's doubtful. "I'm laid back," admits Helfrich with a sheepish smile. "But I'm also a little hyper."