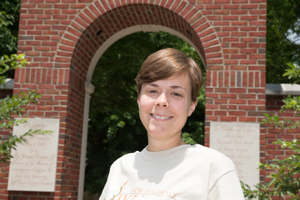 Catherine Cotrupi, community engagement manager of Historic New Harmony, grew up 30 minutes away from another historic town, Colonial Williamsburg, Virginia. Her love of history and past work connecting university groups with community makes her a perfect addition to the Historic New Harmony team. In her first six months on the job, Catherine has gotten to know many different constituents in New Harmony, and has introduced Historic New Harmony's work to the campus and to the community.
Catherine earned a master's degree in sociology at Virginia Tech in 2011. She served as their first LGBTQ coordinator, a role that connected the various student and staff lesbian, gay, bisexual, transgender, queer groups and events on campus to resources and organizations in the community and conducted Safe Zone training for university and community members.
She is married to fellow USI employee, Dr. Tara Frank, assistant dean of students.
Catherine recently sat down for a Q & A with USI Today.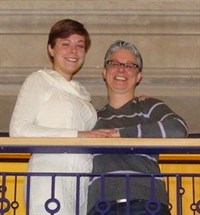 What do you enjoy most about working at USI?
The size of the campus is great for building relationships and collaboration. Being familiar with two larger schools- Virginia Tech and Clemson, USI is a lot less siloed. Areas are better able to work together since resources are more limited and we all know each other better.

What do you enjoy most about your position here?
I love the balance between community and campus interactions. I can get the energy, the electricity, and the great ideas from campus life, and can turn around and get the relationships, the small town feel, and the real-life potential from being a part of the community.
What are some ways Historic New Harmony can be incorporated into classrooms?
It's a given that teachers and professors can really engage with the history of New Harmony – it's an important part of our history as a region, but also as a nation as a whole. That being said, there are other ways to think outside of the box and outside of the classroom – history isn't all we have to offer. The "boatload of knowledge" brought so many important intellectual and social figures to the area, so we have a great jumping off point for entomology, geology, feminism, abolition, the arts and culture in general. We also have such a beautiful setting in terms of nature as well. The town and land are our classrooms.

How do student workers and interns play a role in New Harmony?
Student workers are trained to know the history of the town back to front. Most work as either interpreters or as greeters in the Atheneum – giving tours around town or welcoming people to the area and providing them with resources to make their excursions better. Our interns get more of a hands-on experience in their field. Right now, we have a history and curriculum intern working to make our Heritage Artisans Days even better, with resource pages and curriculum being developed around it. We also have an interfaith intern position that we have recently posted. This is a partnership between the Religious Life on campus as well as Student Affairs, and speaks to the history and culture of interfaith efforts in New Harmony. 

New Harmony, Indiana is celebrating its 200th anniversary this year. Tell me about some of the events that will take place as part of the bicentennial?
The entire calendar is available here: http://www.newharmony-in.gov/map-calendar.php But the preeminent events will be Friday, August 8 and Saturday, August 9. Friday, the Salute to New Harmony event will have keynote speakers and honored guests, and Saturday will be an entire day of celebrations with a picnic, a parade that Archie the Eagle is participating in.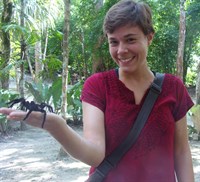 Tell me about an interesting class you've taken.
I took a course in graduate school on LGBTQ Issues- even being a member of this community I found that I had so much to learn and there is so much that has happened in this facet of history that is never talked about, dissected or celebrated.

If you could learn to do anything (with little effort) what would it be?
I'd love to be able to pick up languages without much effort. I love to travel and I would desperately love to communicate effectively with the interesting people I meet wherever I go! I'm also very interested in sociology, so being able to really get to know people on a deeper cultural level would be amazing.  
If you could personally witness any historical event, what would it be?
This definitely shows my age, but I wish I were old enough/conscious enough to understand the significance of the Berlin Wall coming down. Having lived in Slovakia for seven months after college, that part of history is fascinating to me, and I have never had a good education on that era.
When people look at me, they would never guess that I __________.
Was a certified steam engine engineer for two summers. I worked at Busch Gardens in Williamsburg, Virginia, and drove the train around the park.

What is your favorite way to express yourself?
I love to dance, I'm awful at it but music really gets me moving and I enjoy the freedom that comes along with dancing like you don't care!

What's your guilty pleasure?
My guilty pleasure is probably young adult fiction. There are some incredible authors out there that really shaped my understanding of the world and, at that age, it's so important to be exposed to things or have an experience with a variety of thoughts and ideas. It's such an impressionable age and I think the more we are exposed to, the more we are better able to understand each other and our different points of view, even if we don't engage with them or subscribe to them. There are some significantly underappreciated authors and books out there because they are discounted due to their target audience being tweens and teens.