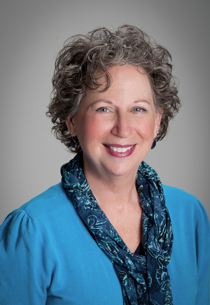 Terri Bischoff, who joined the University of Southern Indiana in 2007 as assistant director of Publishing Services, is stepping into the director role in that department, recently renamed Creative and Print Services.
As director, Bischoff will manage the staff, services, operations, processes and resources of Creative and Print Services, encompassing graphic design, large format, digital and offset printing and finishing, print outsourcing and copy services. She also will continue to serve as a strategic partner in University's marketing endeavors.
"As assistant director, I was fortunate to work closely with a dedicated, professional staff, and I'm honored to now be leading this department," Bischoff said. "I'm excited about the direction the University is taking and to be a part of that. My years of service in this department, my training in graphic design and print management and my extensive experience in the industry have given me a solid foundation and prepared me well for the duties in this new role."
Bischoff formerly worked as a graphic designer and art director at Studio Graphics, Hemisphere Corporation and Rainbow Communications/Fire and Rain before transitioning into commercial printing at GGG Digital Graphics, where she served as operations manager, designer, and large format supervisor, and Krieger Ragsdale, where she was prepress manager. 

She holds a bachelor's degree in graphic design from Southern Illinois University Carbondale.
Bischoff replaces Leslie Parker, who retired this summer after 15 years of service to the University.