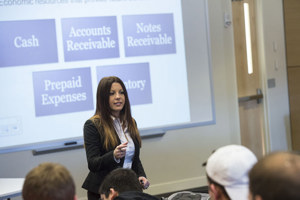 Just one year after implementing a new investment accounting degree track for accounting majors in fall 2013, the University of Southern Indiana's Romain College of Business is seeing great success from the program, which saw its first graduates enter the workforce this summer.
Jill Oeding, assistant professor of business law, said this is the only undergraduate accounting program she knows of that has such a distinctive focus on accounting for alternative investments anywhere in the country. "This is a really exciting program that has helped to open the doors for our students to have a competitive edge in today's job market right after graduation," she said. "We've already had a lot of interest in the investment accounting track, and as more and more of our graduates get jobs, I only see that interest increasing. There are opportunities for employment locally with firms like SS&C Technologies, but there also are opportunities in major financial hubs like New York, Chicago and Los Angeles."
Accounting majors in the investment accounting track explore complex issues surrounding alternative investments like hedge funds, private equity funds/real estate, venture capital funds, derivatives and commodities. Students explore the accounting and compliance issues surrounding these alternative investments, especially in light of recent statutory and regulatory changes brought by the Dodd Frank Wall Street Reform and Consumer Protection Act passed in 2010. Exposure to alternative assets positions students for a wide range of careers in accounting or finance.
Beginning this fall, the more than 20 student enrolled in classes in the track will have even more tools at their fingertips through access to state-of-the-art software donated to the College by SS&C Technologies, a global provider of financial services software and software-enabled services. The gift of nearly $1 million, announced in January, was used to establish the SS&C Investment Accounting Accelerator within the College. Software available to students this fall includes portfolio and partnership accounting for hedge funds and private equity funds; portfolio management of family offices, hedge funds, funds of funds and private equity funds; and private equity operations, data management and investor reporting.
In addition, 12 students in the investment accounting track travelled to the New York office of SS&C this spring, where they were exposed to the day-to-day operations of the company and some of its clients.
"The networking opportunities provided in this trip were amazing," said Dora Mills, an accounting and professional services major from Griffin, Indiana, who plans to graduate this December. "I got to meet individuals in a career that I'm interested in and ask candid questions."
For Donald McGrath of North Olmsted, Ohio, the SS&C trip was an introduction to the company he began work with in May after graduating from USI with a degree in accounting and professional services and a minor in finance. "The trip was a way to open doors to a real understanding of investment accounting," he said. "Actually seeing and working with an investment accounting group and hearing from other speakers … The tour of the financial area [in New York] povided so much background to what I've learned."
The track is the latest of the five specialized tracks developed for accounting majors in the Romain College of Business. Other tracks include financial accounting, managerial accounting, financial management, and information systems.