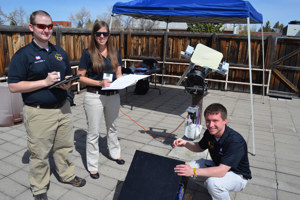 An engineering team from the University of Southern Indiana competed at the 2014 National Student Solar Spectrograph Competition (NSSSSC), held May 14-16 at Montana State University (MSU).
The Hoosiers NSSSC Team composed of Aaron Williams, Danielle Eckert, Craig Roberts and Evan Taylor, came away with their second consecutive national NSSSC award. The team, advised by Dr. Glen Kissel, associate professor of engineering, modified and enhanced the spectrograph used in the 2013 NSSSC, which led to their award of the Best Reuse of a Spectrograph award at the end of the 2014 competition.   
The Hoosiers NSSSC Team entered their original spectrograph into the 2013 National Student Solar Spectrograph Competition at MSU and won Best Presentation of Results.
The National Student Solar Spectrograph Competition allows students from colleges across the nation to design and build optical instruments to answer questions about the sun or other scientific topics. All teams took turns collecting data from the roof of AJM Johnson Hall at MSU.
The spectrographs, which were constructed by competing teams, collect sunlight and separate out the wavelengths.
In addition to using their spectrographs to see what sunlight can reveal, the students in the competition gave presentations of their scientific findings to a panel of judges. They also explained how they designed and built their spectrographs and what kind of outreach they conducted.
Williams, Eckert and Roberts are engineering majors at USI, while Taylor is a  biochemistry major..