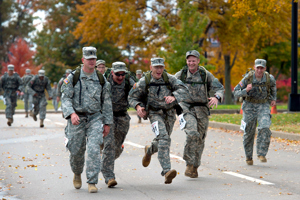 Individuals looking for an intense physical challenge can register to participate in the University of Southern Indiana's 13th Annual Norwegian Foot March. With a start and end point at USI, the 18.6-mile event will require individuals to march on a trail that covers a variety of terrain while dressed in military attire and carrying a 25-pound rucksack and frame. This year's event will take place on Saturday, November 1.
Cadets and soldiers who complete the march in an allotted amount of time will be awarded a certificate and the bronze badge for finishing, a silver badge for finishing four marches and a gold badge for completing eight marches. Participants may register individually or as part of a four-member team.
Sponsored by Dr. Nils Johansen, retired Norwegian artillery reserve officer and USI University Division advisor, the Norwegian Foot March is a boot camp tradition for Norwegian soldiers.

"There are often badges that Norwegian soldiers can earn ranging from skiing (biathlon), to an expert infantry badge and various track and field events including modern pentathlon," said Johansen. "The foot march badge is considered a tough one, requiring physical stamina and mental capacity. It was instituted in 1915 and as a model, duplicates what a soldier could be expected to do in the field, move 30 km and carry a pack with rations. It is also easier to arrange since the badge does not have a marksmanship component, while the others either do or require special athletic equipment."
Civilians who wish to participate must provide their own uniform, rucksack, frame and boot-style foot wear. Tennis shoes are not allowed. Those who complete the march within the set guidelines in the civilian category will receive a Norwegian Foot March certificate.
The 2013 Norwegian Foot March attracted over 500 cadets and soldiers from 30 states. Participants included ROTC cadets from USI, Ball State University, Central Michigan University, IUPUI, Indiana University and Rose-Hulman. In addition, soldiers from the United States Army, including those stationed at Fort Benning, Fort Knox, Fort Campbell, Fort George G. Meade, Fort Leonard Wood, West Point, Fort Sill and Camp Atterbury, also participated. States represented included Alaska, California, North Carolina, New York, Texas and more.
Early registration for the Norwegian Foot March is $30 per person through July 31. Thereafter, registration will increase to $40. A portion of the registration fee will benefit the USI ROTC program. Registration will close on October 17, or when the event is full.
New for this year, participants may pack their rucksack with 25 pounds of nonperishable food items. Members from the American Legion Post 324, which is located on the USI campus, will collect the food at the end of the event and donate the items to Lucas Place II in Evansville. Lucas Place II is a permanent supportive housing complex for homeless veterans with disabilities.
Additional details, including an online registration form, can be found online at USI.edu/footmarch.  Registrations also can be completed by calling USI Outreach and Engagement at 812-464-1989 or 800-467-8600.
For more information on this event, contact Major Chris Dalrymple, commanding officer and assistant professor of military science for USI ROTC, at 812-461-5304 or cmdalrympl@usi.edu.