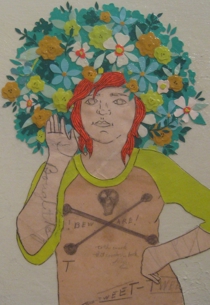 The New Harmony Gallery of Contemporary Art presents "The Collected Past," an exhibition of work by Hollie Chastain, Saturday, June 7, through Saturday, July 19, when a closing reception for the artist will be held from 4 to 6 p.m. The exhibition and reception are free and open to the public.
The exhibition features collage work comprised of 97 percent found and antique materials.  Drawing on the "signs of a past life" in the form of markings, writing, etc.,  Chastain finds inspiration in both folklore and vintage photographs in creating her works on panel and book covers.
"I have found a constant well of inspiration from vintage photos, beaten and work books, found letters and other paper ephemera," Chastain said. "These things are what led me to collage as a medium to begin with, so it's difficult to imagine making work without them."
Quirky collected snapshots and portraits are recreated into new work from battered, dusty beginnings.
"I let the school book scribbles play a role in the composition bringing a new life to what was once forgotten scraps of history, a bored doodle on a math textbook cover, a little peek into a moment of a now anonymous child in the 50s. A little bit of every collage I make has a past that is older than me and I feel honored to be able to give it a new beginning."
After working with various media at an early age, the self-taught Chastain fell in love with collage. The subject of her pieces is often influenced by the materials, as opposed to building around a sketch or idea. She has had exhibitions in galleries and boutiques all over the world, and her work has been published in several magazines. For more information go to http://www.holliechastain.com.
The New Harmony Gallery of Contemporary Art is an outreach partner of the University of Southern Indiana. The gallery is located at 506 Main Street in New Harmony, Indiana. Regular hours are 10 a.m. to 5 p.m. Tuesday through Saturday and noon to 4 p.m. Sunday. For more information, call 812-682-3156 or go to www.usi.edu/nhgallery.