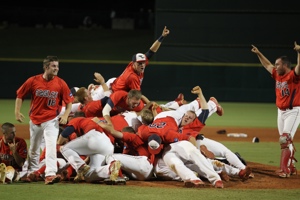 The University of Southern Indiana will hold a celebration to honor and welcome home its 2014 NCAA Division II national champion baseball team at 2 p.m. Monday, June 2, on the USI campus.
The team motorcade with police escort will arrive on the USI campus just before 2 p.m. Fans are encouraged to line University Boulevard to welcome the team back to campus.
A welcome rally and brief ceremony will take place at 2 p.m. in the Physical Activities Center (PAC). All events are open to the public.
Players and coaches will be available for comment and autographs following the celebration, which will include players, coaches, students, fans, USI President Linda L. M. Bennett, University officials and local dignitaries. Championship T-shirts and hats will available for order at the event.
USI captured its second national championship—its first in 2010—when it defeated the Colorado Mesa University Mavericks Saturday, May 31, in the NCAA Division II national championship game. Read more at www.gousieagles.com.