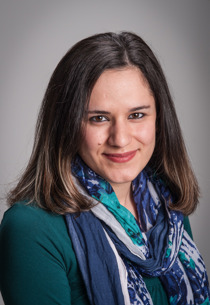 International Programs and Services at the University of Southern Indiana has announced Shan Hussein of Sulaimany, Kurdistan, Iraq, as the 2014 Outstanding International Graduate. The award recognizes an international student with outstanding leadership skills and academic achievement upon graduation from USI.
Hussein is an economics and business administration major. She first came to USI in summer 2010 as a participant in the Iraq Young Leaders Exchange Program. She was one of two Iraqi students to receive USI's first ever Global Ambassador Scholarship, which enabled her to return to USI upon completion of her bachelor's degree in engineering from the University of Sulaimani. She will receive her bachelor's degree in economics from USI this May, and is working toward an MBA degree from USI as well.
"Shan's academic background, both here at USI and at home in Iraq, is exceptional," said Dr. Tim Schibik, assistant dean of the Romain College of Business, who nominated Hussein for the award. "She already possesses a degree in engineering and has been a top performer in her economics major at USI. Shan is truly an outstanding student and person. She's an outstanding representative of USI, our international program, and the world."
2014 Peace Ambassador Award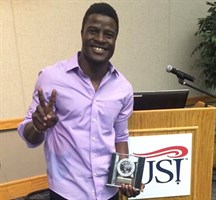 Steeve Jean, of Plaine-du-Nord, Haiti, is the 2014 recipient of USI's Peace Ambassador Award, recognizing an outstanding international student whose actions and involvement in campus and community life have contributed to greater cross-cultural awareness and to increased understanding of the world, its peoples and its traditions.
Jean completed USI's Intensive English Program before beginning a degree in biology/pre-medicine in 2013. He has achieved an outstanding academic record and emerged as a leader on campus, serving numerous organizations, including as a member of the executive board of USI's International Club. 
"I am continually surprised by Steeve's range of involvement," said Dr. Marcia Kiessling, associate provost for Student Affairs. "While he contributes to the University through his involvement, his more significant contributions result from one-on-one discussions with others. He is interested in learning from others and in contributing to his home country and its people. I have no doubt that he will find ways to make lasting contributions to his home country."