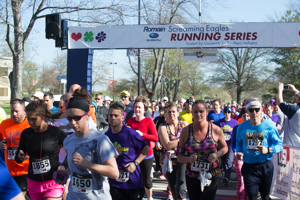 The Romain Subaru Screaming Eagles Running Series, a three-race series held on and around the University of Southern Indiana campus, concludes Saturday, April 12, with the Spring into Fitness 10K. Registration is $25 on race day.
The running series is intended to increase the health and well-being of the Evansville community, while also providing hands-on experience for students in USI's Sports Management program, who organize the series.
The top three male and female runners in each age group will be recognized in an awards ceremony following the race. Awards also will be given to best overall male and female and top-challenged athlete in each division, as well as best hippie costume, cutest couple, and most creative family.
The Spring into Fitness 10K will be followed by a free Flower Fun Run for children. Children age 2 to 10 will run or walk distances of 50 meters up to a half mile. All child runners will receive medals for participation.
Proceeds from the event will go to the USI Sport Management scholarship fund, professional development opportunities, and future event operations offered through the Department of Kinesiology and Sport.
For more information, visit www.usi.edu/running or contact Glenna Bower at gbower@usi.edu  or 812-465-1265.