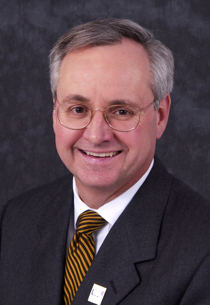 The Great Lakes Valley Conference (GLVC) has named Ron Romain as the recipient of the 2014 Dr. Charles Bertram Alumni Award of Distinction, it was announced by the league office on Monday.  A former baseball player at the University of Southern Indiana and current business owner and civic leader in the Evansville, Ind., community, Romain will be recognized by the GLVC at the Enterprise Rent-A-Car Spring Awards Banquet in St. Louis on May 20.
Romain was nominated by the USI athletics department and was recommended as this year's honoree by the GLVC Awards Committee, based on his post-graduation service and commitment to education in the community and at USI.  The GLVC Awards Committee recommendation was formally ratified by the conference's faculty athletic representatives.
Romain was one of the pioneers of Screaming Eagles baseball, playing during the 1972 and 1973, which were the second and third seasons in program history.  He pitched in a total of 12 games over the two-year span, earning a team-high 33 strikeouts with a 5.14 earned run average over seven outings during the 1972 campaign.  The following year, he touted a 5.40 ERA in five games on the mound.
The Bertram Alumni Award of Distinction is an honor that extends beyond one's collegiate career.  It is presented to an individual(s) that displays academic excellence, athletic ability and achievement, character and leadership, while serving their institutions with personal distinction since their graduation, and making postgraduate public or community service and contributions to athletics at any level.
Since his graduation from USI in 1973, Romain has remained in Evansville and established one of the state's top 50 privately held companies.  Romain is the CEO of United Companies, a diversified transportation and commercial financing firm comprised of Professional Transportation, Inc., Romain Automotive Group, and United Leasing, Inc.
Known throughout the community for his philanthropy, Romain has been involved in many organizations during his time in Evansville, including Youth First, which works to strengthen youth and families by providing evidence-based programs that prevent substance abuse, promote healthy behaviors, and maximize student success.  Romain's United Companies have often been the title sponsor for the organization's annual benefit auction and in 2010, he was awarded the Dr. William Wooten Chairman of Youth First Award for his support.
Romain has also served on many boards throughout the community, including the USI Foundation, and spearheaded the efforts of bringing the Web.com Professional Golf Tour to Evansville for an event that raised thousands of dollars for non-profit organizations throughout the southern part of the state.
The Evansville Business Hall of Fame member also serves on USI's Board of Trustees.  In 2013, Romain and his wife Connie donated a $5 million leadership gift to USI, which resulted in the naming of the Romain College of Business in their honor.
The GLVC's Alumni Award of Distinction is named in remembrance of Dr. Charles Bertram. Dr. Bertram served as a professor and faculty athletic representative at USI and is a former president of the GLVC. He contributed a great deal of time, energy and effort to the league's success and was instrumental in conference operations for many years.
Past recipients of the Dr. Charles Bertram Alumni of Distinction Award include Julie (Thoman) Perry, Jim Thordsen, Keith Bailey, Deb DiMatteo, Dr. Alex Lentsch, Dr. Sandra Magnus, Pat White, Dennis Reinbold, Dr. David Porta, Dr. Steven Giles, Julie Fruendt, Dr. Jane Weaver, Jim Vargo, LuAnn Humphrey, Dr. Michael Bernier, Lois Taurman, and Larry Tucker.