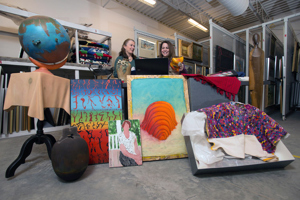 If you've ever noticed a cart with a stack of oversized paintings being guided vigorously and seemingly effortlessly by a short, dark-haired woman, chances are you've just crossed paths with Susan Sauls. Sauls is the University art registrar, the title explained simply, means she manages the art collection at USI, although with an ever-growing selection and the body of knowledge needed to "manage", her role is quite impressive.
Sauls' management of art includes research, conservation, exhibition planning, art storage and handling and at times, pest control. She also has to be business savvy and up to date on legal issues. Who said art was easy? Her work doesn't end there. She also teaches and prepares students for careers in art management. "I like to look at their strengths and what they'd like to learn about," said Sauls.
Art majors are afforded the opportunity to learn from Sauls through internships, and through the James Sanders Fellowship, which includes a semester working with the USI Art Collection and a semester working in the New Harmony Gallery of Contemporary Art – a combination of museum collection and commercial gallery experience.
Roxanne Burton '12, an alumna who is now attending graduate school at the California College of Arts, worked multiple semesters with Sauls as both an intern and a Sanders fellow. "My internships with the USI Art Collection gave me valuable hands-on experience and knowledge of arts administration," said Burton, "which I have used since starting graduate school and will stay with me as I continue my career in the art field." During her time as an intern, Burton researched works in the collection, accessioned art into the database, made repairs to a pair of Brienzerware (a Swiss, black forest wood-carving technique) wall-mounted carvings, and installed artwork for exhibitions. "Everything I've done with Susan has shaped my knowledge and understanding of working in the arts," she said.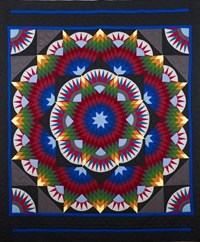 Quilt from the Judy and Tom Morton collection
The USI collection continues to expand. It's made up primarily, although not exclusively, of art with regional connections. "USI is home to the largest collection of Southern Indiana Amish contemporary quilts outside the Amish community," said Sauls. Other large collections include an impressive body of paintings, drawings, and carved wood blocks by abstract expressionist, Stephen S. Pace. Ken McCutchan, a painter and collector of Indiana artworks, also donated a considerable amount to the collection. Another sizeable body of work is the USI faculty, alumni, and student collection, which serves both as art and as history. A few hidden gems such as Mexican masks, textiles, decorative tapestries, and delicate figurines also pepper the collection.
Works are displayed throughout University buildings. Pace paintings can be found on large walls along stairwells, sculptures adorn conference rooms, and a display case in the Wright Administration Building houses a rotation of works from the art collection and/or the Rice Library archives. The McCutchan Art Center/Pace Galleries always has a representative piece from its namesakes displayed above the front desk, and exhibits often feature works pulled from the collection. The most recent exhibit features Polaroids and screen prints by the legendary Andy Warhol that were donated to the University by the Warhol Foundation.
As Sauls looks at the evolution of art at USI, she hopes to continue to hone the collection as a teaching tool through collaboration with art history faculty. The ultimate goal is to expand the audience by increasing the digital presence of the collection – opening the door for students to prepare virtual exhibits, while extending the outreach of the collection to the community. Images from some of the larger collections are available on the McCutchan Art Center/Pace Galleries website. ♦