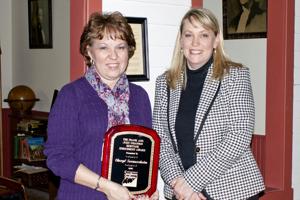 Cheryl Sermersheim, a first grade teacher at Ireland Elementary School in Ireland, Indiana, has received the 2013 Frank and Judy O'Bannon Heritage Engagement Award. Presented by USI's Historic Southern Indiana, the award recognizes an individual who is an exemplary model of community education activities.
Nominated by Mary Ann Hayes, vice president and collections chair at the Dubois County Museum, Sermersheim is the creator of Main Street Dubois County and the Little Pioneers Interactive Children's Area at the Dubois County Museum. The 6,600 square foot educational exhibit, completed in August of 2012, allows children and adults to walk through an early 1900's village and experience an interactive children's area.
Concerned that children and youth are often a neglected age group among history museums, Sermersheim felt there was a need to include this audience in the progress of Dubois County Museum's purpose and mission. Along with her parents, Sermersheim began planning, preparing, and raising funds to support the two projects. She also spent hundreds of hours painting, cleaning, constructing, and displaying exhibits throughout a four-year production process.
The Main Street Dubois County exhibit provides a contextual display space for items that were in the museums collection but not on display. It consists of 17 rooms that portray life at the turn of the 20th century, including: a home with a summer kitchen, hotel, undertaker, bank, tavern, general store, church, medical building, newspaper shop, toy shop, shoe shop, and jail.
The Little Pioneers Interactive Children's Area consists of a one-room schoolhouse and play yard, interactive Lewis and Clark expedition boat, "Grandma's Attic" for dress up, doll house and log reading nook, and discovery stations that are designed as learn-and-play centers for children 12 and under.
Since the opening, Sermersheim has added monthly programs to the exhibit space that feature children's learning activities. In the future, she plans to add additional programs that will expand children's learning.
"Cheryl has a passion for teaching and has always been a very dedicated teacher in her classroom and as a staff member at Ireland Elementary School," said Hayes. "Combining her passion for teaching and love of history has brought wonderful things to the Dubois County Museum and our county."
Sermersheim is a member of the Ireland Historical Society, Dubois County Historical Society, and is a board member of Dubois County Museum. She also is active with the Dubois County Landmarks Preservation, Inc. and the Alpha Delta Kappa teacher's society.
Historic Southern Indiana, an outreach and engagement project of USI, was created in 1986 to serve the southernmost 26 counties of Indiana. Its goals are to identify, preserve, protect, enhance, and promote the historical, natural, and recreational resources of the region. It seeks to implement those goals through programs in historic preservation, history education, heritage tourism, community development, and scenic byways. Its office is a part of the Division of Outreach and Engagement.