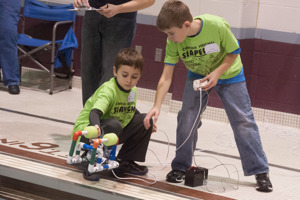 The Southwest Indiana STEM Resource Center (SwISTEM) at the University of Southern Indiana will host its fourth annual underwater robotics competition Saturday. New this year, SwISTEM has partnered with Naval Surface Warfare Center, Crane (NSWC Crane) to transition from a regional to a state level competition, nearly doubling participation from last year. A record 121teams of fourth- through twelfth-graders – about 540 students – will participate in the USI/Crane Indiana State SeaPerch Challenge Saturday, February 8, at the Mount Vernon Junior High School natatorium, beginning at 7:30 a.m. and running through 6 p.m.
The SeaPerch program trains educators to assist students in building underwater remote operated vehicles (ROVs). Students follow a curriculum that teaches basic engineering and science concepts to construct the ROVs using kits provided by the Naval Surface Warfare Center (NSWC) Crane Division. NSWC-Crane partners with USI on programs to advance STEM (science, technology, engineering, and mathematics) education.
"SeaPerch takes students out of the classroom and gives them the opportunity to learn about science and engineering in a fun and interactive way," said Allison Grabert, director of the SwISTEM in USI's Pott College of Science, Engineering, and Education. "This is our fourth year for hosting a SeaPerch competition and it's been exciting to see the program grow and to see how much it excites and engages the students. We're especially excited this year to be partnering with NSWC Crane to bring our competition to the state level."
Teams from more than 120 Indiana schools will compete in either the stock or open division to maneuver their ROVs through several competitive drills. Stock division teams are allowed to use only the contents of their kits, which are comprised of low-cost, easily accessible parts. Open division teams are allowed to modify their ROVs within a set of guidelines established by the national SeaPerch program.
Sixteen teams will advance to the National SeaPerch Challenge in Hattiesburg, Mississippi, May 16-17. In 2013, USI Regional SeaPerch Challenge feeder teams advancing to the national competition included teams from North Posey High School, St. John's School, West Elementary School, and Bloomington South High School.
For more information about the USI/Crane Indiana State SeaPerch Challenge, visit www.usi.edu/SeaPerch.