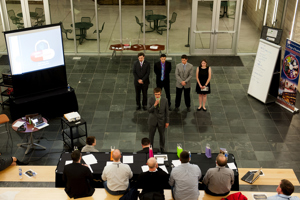 Kettering University students Aaron Simmons and Ryan Allen of Flint, Michigan, along with University of Southern Indiana student Adam Simmons (Aaron's brother), made up the Greek DB team winning the top prize at Startup Weekend Evansville 3.0.
Startup Weekend is a 54-hour event in which developers, designers, marketers, product managers, and startup enthusiasts come together to share ideas, form teams, build products, and launch startups. More than 90 individuals, including coaches and judges, participated in the 2014 Startup Weekend Evansville 3.0 held in USI's Business and Engineering Center February 21-23.
Greek DB pitched software designed to help manage fraternities, sororities and other Greek letter organizations, as well as other membership-based organizations. The software contains tools to manage everything from members and alumni to budgeting, finance, and judicial cases.
As the winners of Startup Weekend Evansville 3.0, Greek DB received an automatic entry into the preliminary competition of the Venture Sharks business competition held April 16-17 in Louisville, Kentucky. The winners of that competition vie for a prize package valued at more than $10,000.
Taking second place at Startup Weekend Evansville 3.0 was team Delicious Street made up of USI students Jason Litherland and Austin Craig, 2010 USI alumnus Kenny Lasley, and Alan Strahinic, an Indiana State University student. Their idea combined a food truck backed by a crowd-sourcing mobile app that allows users to request a food truck and the food truck driver to go where the most demand is.
The third place prize went to Med Secure headed up by USI management senior Adam Dennis, along with teammates and USI students Mark Lewellyn, Michelle Muse, Cole Schafer, and Joel Trewartha. Their idea revolved around a bio-locking (fingerprint) device that could be secured to drawers or medicine cabinets to protect dangerous prescription medication from being misused or abused by others. The idea came to Dennis after a friend passed away from abusing prescription medication.
Other prizes awarded to winning teams included two scholarships to New Venture for further idea development (Value $2,000 from sponsor Growth Alliance for Greater Evansville), and four free memberships to the Innovation Pointe co-working space (Value $2,400 from sponsor Growth Alliance for Greater Evansville).
"This past weekend featured some of the best and most unique final business pitches we've seen in all three years of this event," said Mark Elliott, Startup Weekend 3.0 co-organizer and program director at South Central Media in Evansville. "A pre-teen team (10 and 12 years old) pitching gel filled hats, to the winning team, who drove all the way from Flint, Michigan to participate – we had a great group of people and we hope to keep the momentum going.  When I was trying to start my own business, I wish I would have had a Startup Weekend type event to help me."
Judges included Dr. Joe Trendowski, University of Evansville assistant professor of management; Jason Kellams, vice president of operations and business development at ARC Industries; Kent Parker, business executive, entrepreneur and investor; Walter Valiant, owner and president of Signarama Evansville; and Shance Sizemore, program manager at Growth Alliance for Greater Evansville.
Startup Weekend Evansville 3.0 was sponsored by the University of Southern Indiana's Romain College of Business, Vectren, Growth Alliance for Greater Evansville, and Lieberman Technologies.
"We've had startups launch, provisional patents filed, license agreements transferred, entrepreneurial education delivered, and new 'feeder' initiatives (Tech-On-Tap, co-work space) develop due to intersectional networking taking place at Startup Weekend Evansville," said Bryan Bourdeau, instructor in business and co-founder and co-organizer of Startup Weekend Evansville. "These initiatives are aiding in the further development of our entrepreneurial ecosystem and the emergence of new entrepreneurial leaders in our community."
Founded in 2007, Startup Weekend is a 501(c)3 non-profit "on a mission to provide the world's premier experiential education for beginning and early stage entrepreneurs." Startup Weekend is billed as "the world's largest community of passionate entrepreneurs," with events held in cities throughout the world. In its third year, Startup Weekend Evansville is the largest event of its kind in Indiana.