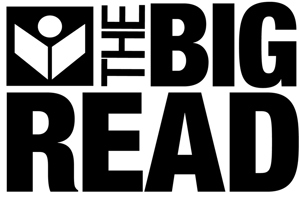 USI's Service Learning Program and community partners will participate in the Big Read, a program designed to revitalize the role of literature in American culture and to encourage citizens to read for pleasure and enlightenment. The program is being funded through a $12,000 grant that was awarded to USI from the National Endowment for the Arts (NEA). This is the second year USI has received a grant to organize a Big Read event.
The Grapes of Wrath, a novel that depicts economic hard times and environmental issues faced by those who lived through the Great Depression, was selected for the community read as it closely relates to the world we live in today.

The opening reception will be held from 2 to 4 p.m. on Sunday, February 2, at Central Library in Evansville where a panel of USI faculty members will discuss the relevance of the book. Book discussions will take place during the month of February at senior centers, high schools, universities, libraries, and churches that will focus on intergenerational exchanges. Several public discussions are available for those wishing to join the discussion. 
Dr. Robert Reid, USI provost emeritus and professor emeritus of history, will deliver the keynote address at 7 p.m. on Wednesday, February 5, in USI's Mitchell Auditorium in the Health Professions Center. Reid will deliver an illustrated lecture on the relationship between The Grapes of Wrath and documented photography from the 1930's depicting rural life, agriculture labor floods, and droughts in the states of Indiana, Illinois, Minnesota, and Texas. Reid has published several books on local and North American history. A response panel will follow.
Additional Big Read events will include several talks at Willard Library, a showing of The Dust Bowl documentary, screenings of The Grapes of Wrath, dramatic readings, book discussions, and public displays.
The culminating event will be held from 2 to 4 p.m. on Sunday, March 2, when Mark Cambron, district conservationist for Vanderburgh County, will give a presentation on the range of impacts of the Great Depression and the Great Recession at Central Library. The event also will include a response panel and musical entertainment.
Additional information on these events and public discussion groups can be found online at USI.edu/big-read. A Facebook page dedicated to the event also is available.

"We are very excited about the program we are offering," said Dr. Anne Statham, director of USI's Service Learning Program. "Our partners have worked hard to accomplish our goals of encouraging all segments of our community to read great literature and consider the ways these classic works relate to our lives today, sharing these insights across generations. There is something for everyone in our line-up of events and activities, including programs that will be aired on WNIN."
Program sponsors include Evansville Literacy Coalition, Evansville Protestant Home, Evansville Vanderburgh Public Library, Evansville Vanderburgh School Corporation, Ivy Tech Community College, Solarbron, Southwestern Indiana Regional Council on Aging and More, Vanderburgh County Soil and Water Conservation District, West River, Willard Library, WNIN, and more.
Presented by the NEA, the Big Read is a partnership with Arts Midwest. The NEA inaugurated the Big Read as a pilot project in 2006 with 10 communities featuring four books. It continues to expand to include more communities and additional books. To date, more than 1,000 grants have been awarded to communities in the United States to host Big Reads since the program's 2007 national launch.
For more information, contact Dr. Anne Statham at 812/465-1203 or aastatham@usi.edu.