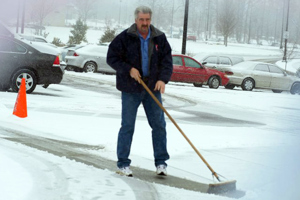 Twas winter break and all through the campus, not a creature was stirring… except, wait! Is that ice on the sidewalk? Did the heater stop running? A pipe has sprung a leak! A jogger on campus just sprained an ankle. There's a student in a laundry basket being pulled by a truck! How did that goose get in Carter Hall? Thank goodness the University has essential personnel on campus to help. Alright, perhaps things might not be quite this exciting over winter break, but fortunately the University does have devoted staff on hand in case any of these incidents do occur.
Steve Helfrich, director of Facility Operations and Planning explained there are always staff members on campus 24/7 to ensure that all is well. Duties include removing snow or ice from the roads and sidewalks, ensuring buildings are heated or cooled and the water and sewers are flowing, and taking care of emergencies.
Larry Wildeman, HVAC and Central Plant supervisor, said someone is stationed in the control room at all times to ensure that heating and cooling systems are running efficiently, as well as clearing sidewalks and roads of ice. "You don't realize how many sidewalks and steps there are on campus until you have to keep them cleared and treated with ice melt," he said.
Although many are at home during the winter break, some students are unable to return home during this time. There also are the occasional visitor and workaholic employees who take advantage of the quiet time and abundance of parking spots to be productive. So while most of the lights have dimmed and only a few goose prints remain, there are a "handful of cars and sporadic lights from the apartments and residence halls," said Karen Huseman, assistant director of programming in Housing and Residence Life.
If there's snow on campus, students often take advantage of the uncrowded rolling hills of campus. "You see them riding makeshift sleds with whatever they can find – cardboard, plastic bags, etc. and, naturally, there are snowball fights," adds Wildeman.
Steve Woodall, director of Public Safety, says his team is "much like the postal service – here in rain, sleet, or snow." He's proud of his staff in their willingness to stay later in inclement weather and pull together to take care of one another's needs as well as the needs of the University.
I'm sure everyone in the USI family joins in a show of gratitude for our essential personnel who work tirelessly in all conditions to make sure the University is handled with care. They truly are our all-weather heroes. ♦