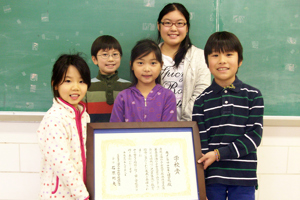 For the eighth consecutive year, USI's Southern Indiana Japanese School (SIJS) has received the School Award in Writing from the Japan Overseas Educational Services, a subsidiary of the Japanese government's Ministry of Education and Science. There are more than 300 Japanese schools abroad of which 230 participated in the contest. Only 20 schools received the award.

"I believe we are the only school in the world to receive the School Award in Writing eight years consecutively," said Keietsu Nishimura, principal of SIJS.
Additional writing prizes also were awarded to seven SIJS students in various categories.

Momoko Anada, an eighth grader at North Junior High School in Evansville, and Emily Okada, a fifth grader at Oak Hill School in Evansville, received prizes in the category of Haiku poetry. 
Prizes in the poetry category went to Rio Kamihira, a first grader at Sharon Elementary School in Newburgh, and to Rintaro Maejima and Misaki Koshimizu, both second graders at Scott Elementary School in Evansville.

From Tell City, Indiana, siblings Nono Higuchi and Ren Higuchi received prizes in the writing category. Nono is an eighth grader at Tell City Jr.-Sr. High School and Ren is a third grader at William Tell Elementary. 
A total of 43,769 literature works were submitted to the writing contest this year.
SIJS opened in 1997 at the request of and with the financial support of Tri-state regional companies to help prepare students for a smooth transition into Japanese school life when they return home. Currently, the school has 60 students and 11 teachers who provide instruction in Japanese language, culture, and other selected disciplines on Saturdays and after the regular school day.
The SIJS is a program in USI's Division of Outreach and Engagement.