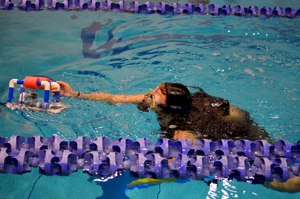 The Southwest Indiana STEM Resource Center (SwISTEM) at the University of Southern Indiana is now accepting registrations for its fourth annual underwater robotics competition, the USI/Crane State SeaPerch Challenge, scheduled to take place Saturday, February 8, 2014, at the Mount Vernon Junior High School natatorium.
The SeaPerch program trains educators to assist fifth through 12th grade students in building underwater remote operated vehicles (ROVs). Students follow a curriculum that teaches basic engineering and science concepts to construct the ROVs using kits provided by the Naval Surface Warfare Center (NSWC) Crane Division. NSWC-Crane partners with USI on programs to advance science, technology, engineering, and mathematics education.
The deadline to register is January 17, 2014. To register a SeaPerch team, complete the online registration form.
For more information, visit http://www.usi.edu/science/southwest-indiana-stem/student-outreach-events/seaperch-challenge/ or contact Allison Grabert, director of the SwISTEM Resource Center, at afgrabert@usi.edu or 812/228-5019.