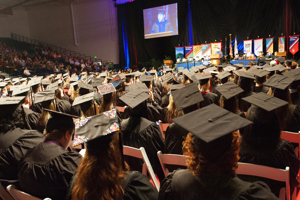 This December, more than 580 graduated from the University of Southern Indiana during two ceremonies in USI's Physical Activities Center (PAC). Of those, 10 graduated summa cum laude, 33 magna cum laude, and 38 cum laude.
A ceremony was held for degree candidates from the Romain College of Business and Pott College of Science, Engineering, and Education and a second for the College of Liberal Arts, College of Nursing and Health Professions, and Division of Outreach and Engagement.
As the recipient of the 2013 Distinguished Professor Award, Dr. Robert E. Boostrom, professor of education in the Pott College of Science, Engineering, and Education, presented the commencement address at both ceremonies. "Most of the time, in most of your endeavors, even when you do a good job, no one is going to give you an award," he said, illustrating his point through the example of Vincent Van Gogh, Alfred Hitchcock, and Samuel Prescott. 
"If success depends on achieving riches, awards, and fame, it depends on things over which you have almost no control. Your education—the one you begin shaping for yourself today—will depend on how brightly the love of learning burns in you."
Below are just a few of the many stories of motivation and success that characterize how students get the edge at the University of Southern Indiana: 
Morgan Kippenbrock is motivated. She was motivated to finish her marketing degree in less than four years—it's been three and a half. She was motivated to get out and see some of the world—she spent five weeks in Europe this past summer at Harlaxton College. And now she's motivated to put the skills and knowledge she's gained at the Romain College of Business to work in a marketing career.
During college, she's barely slowed down. The mother of a 4-year-old son, a part-time employee, a full-time student, and a commuter from St. Henry, Indiana, Kippenbrock knew business was the area in which she wanted to build her career, but it wasn't until she'd taken a few business courses that she chose marketing as her major. "I like working with people, so accounting or some less interactive professions wouldn't suit my personality," she said.
Since people figure strongly into Kippenbrock's life, she seized an opportunity to take a course abroad. While in Europe, when not in class, Kippenbrock traveled to Madrid, Dublin, Paris, and London on weekends, expanding her horizons by exposing herself to the way other cultures operate. "It was an eye-opening experience," she said. "I learned not only that I was more independent than I thought, but the importance of keeping an open mind when dealing with others. Everyone has a different perspective on everything."
Next on her agenda is getting "her foot in the door" of a company and "gaining experience." After that she's got her eye on graduate school and one day living and working abroad.
Kippenbrock is a second generation Romain College of Business student; her father earned a degree in business administration, making her a legacy alumna. At USI she received several scholarships including a USI Alumni Association Scholarship and an Aline Nunn Renner Scholarship. She also received the Marian Klausmeier Roettger Scholarship from the Huntingburg Foundation.
When senior art major and first generation college graduate Kristina Fitzgerald says she likes to stay busy, she backs this statement with a resume stacked with awards, scholarships, and group involvement. Fitzgerald adds the 2014 Efroymson Bridge Year Fellowship to her already impressive list of achievements including the City of Evansville Art Merit Scholarship, 21st Century Scholar, and the Elizabeth Zutt Enrichment Scholarship for a trip to China, to name a few.
The Efroymson Bridge Year Fellowship is a $10,000 award program, which allows one art student annually to strengthen and create new material for his or her portfolio. Fitzgerald says she will use this experience to make her more "marketable" to graduate schools. It will also offer Fitzgerald the opportunity to serve as a teaching assistant, allowing her hands-on experience towards her ultimate goal: teaching graphic design courses.
"I started out as a biology major at USI but found that art was a more natural fit," Fitzgerald said. Soon after, she switched her major to art with an emphasis in graphic design. She hasn't lost her love of biology, however, and has been active in the Biology Club designing materials for promotions. She has also worked as a graphic design intern for the International Club and served as the vice president for the Japanese Club.
The newlywed will be in good company as she moves her tassel from right to left -  her husband, Alex Arwood, will be donning a matching graduation gown and cap as he too graduates from USI, with a degree in biology. The couple has their sights on the west coast and will be looking at graduate schools in California and Oregon.
"I love school and I love to learn," said Fitzgerald. Her Bridge Fellowship mentor, Xinran Hu, attests to this. "She regularly stayed after class to discuss design problems, participate in critiques, and seek feedback. As a class leader, Ms. Fitzgerald helped create an impressive learning atmosphere," Hu said.
Patrick Seib has had several sleepless nights this past week. Not only was he not writing his final paper or preparing for finals in his Master of Public Administration (MPA) program, but he was also supervising an agency of 48 men and women who plowed the county roads after six-plus inches of snow were dumped on the Tri-State.
The non-traditional graduate student and new superintendent of the Vanderburgh County Highway Department said he was so busy clearing the roads that at the end of a "very long day"—he worked eight hours during the day and returned at 10:30 p.m. to work all night and through the next day—he didn't have time to clear his own driveway.
Before accepting the superintendent position in August, Seib was the assistant county engineer for 10 years. While his new position doesn't require an advanced degree, Seib was personally motivated to improve his knowledge. "I did it for myself... to become a more educated person and stretch my mind and expand my perspective," he said. "I now have a greater understanding of the knowledge and skills necessary for a managerial position in a modern public agency."
Over the course of his career, Seib has encountered several forks in the road that have caused him to pause and consider what was best for him. When he decided to return to school and pursue and an advanced degree, he briefly considered earning the Masters of Business Administration, but with his background in government, he felt an MPA was a better fit. "The MPA program isn't a cakewalk, but the professors and instructors really care. It's a wonderful program filled with talented people that's allowed me to build meaningful connections and friendships. I miss it already."  
Seib completed his degree in two years and is already taking the knowledge gained in the MPA program—efficiency, effectiveness, responsiveness, equity— and turning it into skills needed in his job. As for the future, he said, "Life's full of curveballs, and we have to learn to adjust to them. For now, I plan to do the best job I can."
Chelsie Hall grew up around other people's children – her mother ran a day care – and after graduating this semester, she too has a chance to build a career around caring for children. The occupational therapy assistant major is pursuing a position in pediatrics, now equipped with an associate degree from the College of Nursing and Health Professions.
USI's occupational therapy assistant program, accredited by the Accreditation Council for Occupational Therapy Education, trains students to assist patients in activities of daily living who are recovering from injuries or illnesses. The program allowed Hall to experiment with working among different patient populations during her required clinical work; she worked with elders at Hamilton Pointe Health and Rehabilitation Center in Evansville and with children at Union Hospital's pediatric unit in Terre Haute. Her clinical experience helped her decide to work with children.
"I love being around kids," Hall said. One of her most memorable experiences was caring for a young boy while serving as a personal assistant for Bridges of Indiana, a human service agency that covers the Southwestern Indiana region.
As a student at USI, Hall also participated in the Occupational Therapy Assistant program's sponsorship of the USI Blood Drive and Bone Marrow Registry Drive. That's how she found out she was a bone marrow match to a patient with cancer. "Unfortunately I didn't get to donate, but I'm so glad that I was considered," she said.
Hall, a resident of Brownstown, Indiana, started attending classes at USI in fall 2010 and is one of USI's many commuter students, though her journey to campus is a bit longer than most. One of the things she most enjoyed about her program was the camaraderie within her cohort. "I love that USI is kind of a smaller school. All the professors are really nice, and I loved the OTA class I was in this past semester," she said. Of her classmates, she said, "They made going to classes from 8 a.m. to 4 p.m. enjoyable."
During her time as a USI student, Hall also completed clinical work at the University of Louisville Hospital and played intramural sports. Her brother, Jonathan, also is a USI student.
Biology major Brittany Verble '14 of Hatfield knew from a young age that she wanted to be a doctor. She thinks it may have stemmed from the Fisher Price doctor kit she got when she was two years old. She can recall doctoring her parents, her siblings, and the occasional family pet. 
At USI, she received the Thomas P. and Diane Krueger Baccalaureate/Doctor of Medicine Scholarship, which offers a full tuition waiver and a provisional seat in the Indiana School of Medicine. During her three and a half years at USI, Verble participated in undergraduate research in  micro invertebrates, river health, and genetics.
She graduated a semester early with honors and looks forward to spending a semester in China and Korea teaching English. Verble plans to start medical school in fall 2014.