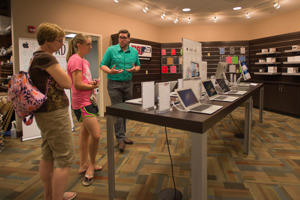 The University of Southern Indiana is one of seven colleges and universities nationwide being honored by University Business magazine in its winter 2013 "Models of Efficiency" national recognition program. Sponsored by Higher One, a leader in providing financial services and data analytics to colleges and universities, the Models of Efficiency program recognizes innovative approaches for streamlining higher education operations through technology and/or business process improvements.
Tim Goral, senior editor of University Business, said, "The USI Campus Store completely reinvented itself to remain competitive, all while keeping students' needs at the forefront. It's a great job all the way around."
The USI Campus Store had seen its sales fall an average of 10 percent per year the last few years. With new and used book sales accounting for 60 percent of revenue in the store, Steve Bridges, assistant vice president for finance and administration, and his team knew something had to be done.
Part of the challenge was increased competition. To become competitive once again, USI developed services it could provide that its competition could not.
Instead of requiring students to visit the financial aid or bursar's office to receive a voucher to be used at the USI Campus Store, students are allowed to charge up to $1,000 in books to their student accounts. They can then spread out repayment of the cost of the books over the semester using a payment plan.
Charge sales are up $400,000 over last year and students don't have to wait to buy books due to delays in financial aid processing or lack of funds. In addition, the store is expanding its inventory to include student and faculty-created artwork and new shirts and sweatshirts touting specific USI colleges and teams.
An authorized Apple store was also recently installed where students can try out the latest Apple technology on and enroll in classes and workshops to enhance their skills. Dell computers will soon be offered, too.
Although the campus store is typically thought of as an auxiliary service, Bridges believes it has a broader role. "The ability to get people learning tools on day one will positively impact retention," he says. "Competition in some cases makes you smarter, more creative, and, in the end, becomes the catalyst for a more customer-focused and financially sustainable model. This has been the case at the USI Campus Store and a learning experience that we will not soon forget."