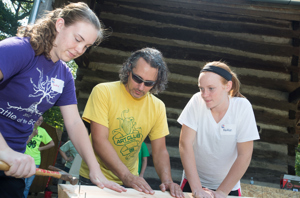 What is service learning?
Fitness and nutrition education, city beautification, art projects with geriatric patients, market research, dental care, and more – all of these are part of service learning at the University of Southern Indiana. Faculty, students, and volunteers work together to fill a void, provide a service, or assist small businesses, non-profits, and schools.
There are three areas of service learning at USI: academic, curricular, and co-curricular. Academic service learning integrates community projects into coursework as part of student's grades. Curricular service learning engages entire disciplines or Colleges in projects, not necessarily as part of a course requirement. Co-curricular service learning often involves student-led initiatives not connected with classes or grades.
The goal is to help USI students realize they have a civic duty; enable them to have real-time, hands-on practice in potential career areas; and encourage them to build a greater bond with both the University and the community in which they live. Opportunities for students to make a difference are abundant, in a variety of fields across all majors. "Universities have so many resources, and I think involving students and faculty in this way is one of the best resources we have to offer," said Dr. Anne Statham, the director of the Service Learning Program and professor of sociology.
Some of the projects orchestrated over the past year included an English as a Second Language program for Latinos in the Evansville area, a bully prevention program for Bosse High School, assistance for elementary school children with language and math skills, and a fundraiser for hunger-based charities through the sale of art. These are merely the tip of the iceberg – 167 classes throughout all USI colleges taught by 104 instructors with 3,157 students participated in service learning during 2012-2013.
Major co-curricular events
The Service Learning Program not only provides consultation and monitoring of courses with service learning components, but also organizes numerous co-curricular activities and rounds up volunteers within the USI community and the local community. Major co-curricular events include remembrance services for 9/11, Make a Difference Day, Veterans Day, Martin Luther King Day, and Global Youth Service Day. 
Students made cards for soldiers and veterans in appreciation of their service to our country, and care packages were sent to active duty soldiers in Afghanistan for 9/11 remembrance day. Students helped Mesker Park Zoo with the Boo at the Zoo event, and the Wesselman Woods Nature Preserve with the Harvest Festival and Hayrides, amongst others for Make a Difference Day. Dr. Jack Smother, assistant professor of management, had his class hold a "Coats for Vets" drive for Veterans Day. More than 600 volunteers equipped with gloves and trash bags came together to clean up the city for Global Youth Service Day.
Funding
Linda Reed, grant writer for Outreach and Engagement, and Statham were able to obtain over $25,000 in grants for co-curricular activities. In addition, the Service Learning Program awarded a number of small grants to USI employee groups to work on projects with community organizations.
Impact on students
All service learning, whether incorporated as part of a course, a department-wide effort, or working with a group of diverse volunteers, enriches the student learning experience while simultaneously serving a community need. Surveys completed by students at the end of a service learning course indicated they felt service learning projects enhanced their learning experience, connected them with their community, and enhanced their awareness of social issues. Additionally, they said their problem-solving, communication, leadership, and collaboration skills were increased. More than 90 percent who completed the survey said they plan to continue volunteering and serving the community.
Faculty who wish to incorporate a service learning element can complete an on-line application form or consult with Dr. Anne Statham, program director for service learning via email aastatham@usi.edu or by phone 812/465-1203. ♦