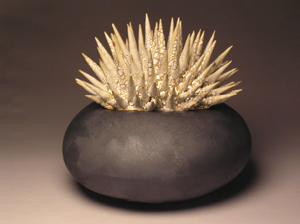 A solo exhibition of the work of Alisa "Al" Holen, associate professor of ceramics at the University of Southern Indiana, opens with a reception from 4 to 7 p.m. Saturday, November 23, at the New Harmony Gallery of Contemporary Art during the last New Harmony Art Stroll of the year. The reception and exhibition are free and open to the public.
The exhibition will feature Holen's functional ceramics and some exciting new installations made specifically for the gallery. While drawing from the rich history of functional ceramics, Holen seeks to push the boundaries of function with her sculptural works. Additionally, Holen sees the work as a metaphorical expression of professional and personal relationships.
"I am interested in creating dialogues and relationships between my ceramic forms," Holen said. "I have recently realized that many momentary or seemingly insignificant moments with others get me closer to my goals as an artist. I use this realization in this body of work. Special attention is given to the shapes, textures, swells, voids, and relative sizes of the interactions."
The exhibition runs through December 27.
Holen holds a Bachelor of Arts degree from Augsburg College, a master's degree in ceramics and a Master of Fine Arts degree in sculpture with a ceramics emphasis from the University of Iowa. She is active as a presenter in the National Council on Education for the Ceramic Arts Conference. She is also involved in many local arts activities including founding Empty Bowls Evansville.  For more information, visit http://www.alpottergirl.com
The New Harmony Gallery of Contemporary Art is an outreach partner of the University of Southern Indiana. The gallery is located at 506 Main Street in New Harmony, Indiana. Regular hours are 10 a.m. to 5 p.m. Tuesday through Saturday and noon to 4 p.m. Sunday. For more information, call 812/682-3156 or go to www.usi.edu/nhgallery.