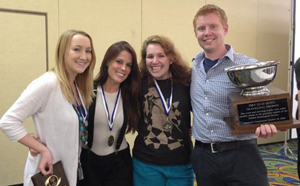 A team of USI students representing USI's radiologic and imaging sciences took first place in the Quiz Bowl hosted by the Indiana Society of Radiologic Technologists (ISRT) at their annual conference this month at the Holiday Inn Airport, Evansville. The students competed against 16 teams from across the state. Team members included: Alyssa Schutte, Janessa Sproles, and Claire Tuggle. They were coached by Jarrod Brown, clinical instructor for Deaconess Gateway Hospital. The Quiz Bowl consisted of 30 certification exam-type questions in two timed rounds for a total of 60 questions. 
Joy Cook and Heather Schmuck, both clinical assistant professors of radiologic and imaging sciences, chaired the conference. Both were installed as new ISRT officers for the 2013-14 term—Cook as president and Schmuck as secretary. 
The ISRT, an affiliate of the American Society of Radiologic Technologists, has 1,000 members, representing medical professionals and students who work in radiography, radiation therapy, nuclear medicine, sonography, magnetic resonance imaging, computerized tomography, and all other imaging modalities.