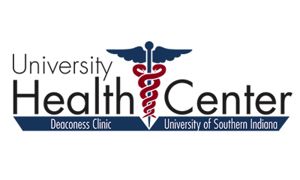 Faculty, staff, and students can now save a trip to an off-campus pharmacy by visiting the University Health Center's on-site mini pharmacy. Located in the lower level of the Nursing and Health Professions Building, the Center stocks twenty of the most commonly prescribed medications, along with an assortment of over-the-counter medicines at a more affordable rate than off-campus pharmacies. The prescriptions range in price from $5 - $13.
 "I felt it was important to be able to offer patients a convenient, low-cost option for filling prescriptions," said Matthew Winegar, University Health Center practice manager. Prescriptions must be prescribed by the on-campus physicians, who are Deaconess employees, in order to be filled at the health center.
The recent name change from Student Health Center to University Health Center is a more accurate reflection of the patients served. All USI students and employees can enjoy the benefits of an on-site full-service clinic that offers acute and minor care, pregnancy tests, laboratory tests, sexually-transmitted disease diagnosis and treatment, contraceptive counseling and birth control, physicals, prescriptions, and more.
Another service the Center provides is allergy shots. The serums, which aren't considered prescriptions, are mailed from the allergist/pharmacist with instructions, and are administered as ordered. "I opted to have my allergy shots here at USI because I got tired of leaving campus in the middle of the day. Having the convenience of getting my shots here makes it so much easier to get back into the business of working," said Barb Goodwin, administrative assistant in Photography Services.
Flu shots also are offered through March 2014 at a cost of $20. The seasonal vaccine has been combined with the H1N1 vaccine and is given in a single injection.
University Health Center hours are 8 a.m. – 4:30 p.m., Monday through Friday. Appointments are required for procedures, pap smears, drug screens, and physicals. Walk-ins are acceptable for acute visits. For more information, contact 812/465-1250. ♦