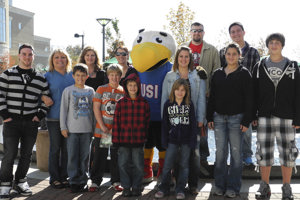 The University of Southern Indiana will welcome parents, grandparents, friends, and families to explore campus and get a firsthand look at student life during Parents and Families Weekend on October 26 and 27. The annual event offers an opportunity to visit campus housing, meet other USI families, take part in activities for all ages, take a tour of campus, have photos taken with Archibald Eagle, and more.
Highlights of the weekend include a luncheon with USI President Linda L. M. Bennett, USI's Dance Marathon to raise money for Riley Hospital for Children, and the exhibition game between USI's Screaming Eagles and the Indiana University Hoosiers basketball teams, which will be broadcast live from Bloomington in USI's Physical Activities Center. A full schedule of events is available online.
Register for Parents and Families Weekend at http://www.usi.edu/family/parents-families-weekend/. The weekend is free, unless attending the President's Luncheon. The luncheon cost is $8 per person ages 4 and up, and a separate online registration form should be completed in advance.
For more information or if you have questions about registration, contact Sherri Miller, assistant director of Alumni and Volunteer Services, at samiller3@usi.edu or 812/465-1215.