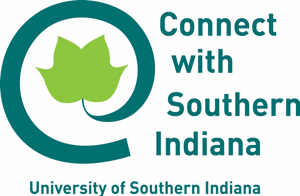 Connect with Southern Indiana, a regional leadership program offered through USI's Historic Southern Indiana in the Division of Outreach and Engagement, is accepting applications for its 2014 class. An annual program, Connect with Southern Indiana provides invaluable, tangible skills, including the opportunity to meet others from the region with similar concerns and interests, identify areas for collaborative projects, and meet business and civic leaders while developing creative problem solving skills. 
Evolving over the years, Connect with Southern Indiana now contains a social entrepreneurship model in which participants seek innovative solutions to a variety of problems or needs. Participants will bridge the gap between entrepreneurial thought and practice by focusing on activities that must be carried out by entrepreneurial-oriented organizations. The program is designed to actively immerse participants in the strategic entrepreneurial process with the objectives to reinforce and develop divergent thinking, analytical thinking, and communication skills. The primary goal is the development and communication of an organizational model in an atmosphere that is based on team collaboration and coaching. 
"One of the things that sets the Connect program apart is its focus on the region as opposed to one county or community," said Leslie Townsend, director of Historic Southern Indiana. "Participants get a chance to not only learn about the nine counties, but to visit each one and selected attractions. In addition, the techniques used by the USI faculty to present the material makes for a very interactive and high energy approach to problem solving." 
Participants will attend ten full-day sessions on January 17 and 24, February 7, 27, and 28, March 21, April 11 and 25, May 16, and June 6. Members of the class will develop a collaborative project, which they will present at the end of the program. USI faculty and staff and community leaders will facilitate all programs.  
Open to Indiana residents living in Dubois, Gibson, Knox, Perry, Pike, Posey, Spencer, Vanderburgh, or Warrick counties, up to twenty-four individuals will be selected for the program. 
Applicants should have an interest in improving the quality of life in their community and/or region, a desire to develop leadership skills, and to become actively involved in their area. One year's residency in the region prior to January 2014 is required. 
Additional information and an application for the 2014 Connect with Southern Indiana class can be found online. The deadline to apply is Friday, November 15. 
For more details, or to schedule an appointment for more information, contact Townsend at 812/465-7013 or ltownsen@usi.edu.