USI scheduled to play IU in exhibition
USI scheduled to play IU in exhibition
9/13/2013 |
University Communications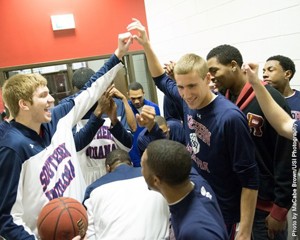 EVANSVILLE, Ind.—The University of Southern Indiana men's basketball team has extended its exhibition schedule to include a showdown with Indiana University October 26 at 6 p.m. (CST)  in Bloomington, Indiana. The exhibition game will be the first ever meeting between the two programs in men's basketball.

"This is a great opportunity to play a Big-10 team with such great tradition," said USI Head Coach Rodney Watson. "We also are grateful for this chance to play in Assembly Hall where so many historic NCAA basketball games have been played."

USI had announced Monday in its schedule release that it also would travel Knoxville, Tennessee, to visit the University of Tennessee for an exhibition game.  ""Exhibition games against Division I squads can be very exciting," said Watson. "But, the real purpose of the exhibition games is to see where our teams are and where we need to go,. That is the same for IU, Tennessee, and USI."

The Screaming Eagles, who were 23-8 overall, advanced to the GLVC Tournament finals, and to the NCAA II Midwest Regional semifinals in 2012-13, begin practice October 15. The Hoosiers were 29-7 overall last year,  14-4 Big Ten, and advanced to the NCAA Division I Sweet 16.